TUESDAY, 4:44pm: The NFL released a statement today on the arbitrator's decision that will result in the 2016 salary cap to rise further than anticipated, stating the league's error stemmed from a technical accounting error regarding stadium construction and renovation projects, via Daniel Kaplan of the SportsBusiness Journal (TwitLonger link).
MONDAY, 9:11pm: An arbitrator found that the NFL withheld roughly $120MM in ticket revenue from its players over the past three years, as Matthew Futterman of the Wall Street Journal writes. Now, the league will have to make it up to the players by increasing the salary cap by roughly $2MM per team, as Adam Schefter of ESPN.com tweets.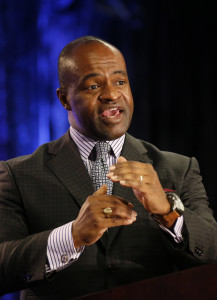 In December, the league's estimate projected a cap between $150MM and $153.4MM with many saying that the number would land closer to the upper maximum of that range. Now, with the latest bump up, the cap could easily approach ~$155MM for the 2016 season.
"They created an exemption out of a fiction and they got caught," said DeMaurice Smith, executive director of the NFLPA.
The league's spokesman, meanwhile, referred to the ruling as the resolution of a "technical accounting issue under the CBA involving the funding of stadium construction and renovation projects." Regardless of what the league says, this ruling marks yet another legal victory for the NFLPA which is a good sign for the union going forward. More importantly, the ruling has the potential to give players an additional $60MM+ in 2016.
Photo courtesy of USA Today Sports Images.
Follow @PFRumors