The Rams released two veteran defenders earlier today, parting ways with defensive end Chris Long and linebacker James Laurinaitis (in addition to tight end Jared Cook), and now Los Angeles might use some of that newfound to cap space to retain another member of its defense. Per Nick Wagoner of ESPN.com (Twitter link), the Rams are hopeful that they'll be able to re-sign linebacker Mark Barron, who is scheduled to hit free agency on March 9.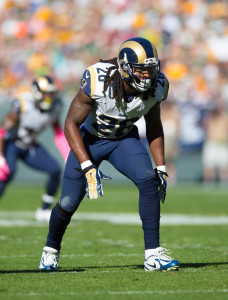 [RELATED: PFR's 2016 Los Angeles Rams Offseason Outlook]
The title of "linebacker" is itself new to Barron, who was drafted as a safety No. 7 overall by the Buccaneers in 2012. Traded to the Rams prior to the 2014 deadline, Barron has spent much of his time with the club in a hybrid sort of role, but a decent chunk of his action has come as a linebacker (his transition to the position was chronicled by Wagoner last October). If re-signed, Barron will stick at weakside linebacker, allowing Alec Ogletree to move to the middle, per Wagoner.
In 16 games (12 starts) last season, Barron played 920 defensive snaps, the second-most among Rams linebackers (Laurinaitis was first), accruing 76 tackles, three forced fumbles, and one sack. Barron's play was impressive according to advanced metrics as well, as Pro Football Focus graded him as the No. 20 linebacker in the league in 2015.
Barron is heading for free agency because the Rams declined his fifth-year option, which, because he was a top-10 pick, would have entitled him to a 2016 salary equal to that of the transition tag figure at his position. The debate over what position Barron plays might have proven interesting, as Los Angeles may have argued that he is a safety — which would have netted Barron around $9MM — while Barron and his representatives likely would have fought for the linebacker moniker (and its ~$11.7MM charge).
Instead, Barron will enter the market eyeing a yearly salary far less than either of those figures. He should be especially affordable for Los Angeles, which after today's cut now stands with more than $58MM in cap room, according to Over the Cap. But the Rams will need to use a decent chunk of that space if they want to re-sign their key defensive free agents, a list that includes corners Trumaine Johnson and Janoris Jenkins, safety Rodney McLeod, and defensive end William Hayes.
Follow @PFRumors