SATURDAY: Washington initially offered Cousins $12.5MM per year on a long-term deal and then increased the number to $15MM, tweets Mike Garafolo of FOX Sports. Cousins, however, wants at least $19MM per annum, according to Rapoport (Twitter link).

FRIDAY, 1:43pm: A source with knowledge of the situation tells Mike Florio of Pro Football Talk that Washington has yet to make a decision on whether to use any form of tag on Cousins. In fact, the source believes it's currently more likely than not that Washington won't place the franchise or transition tag on the quarterback.
Florio speculates that Schefter's report came from a team source hoping to discourage rival suitors from putting together offers for Cousins or talking to his agent at the combine this weekend.
With conflicting reports on the table now, it looks like this situation could remain up in the air until Tuesday's franchise-tag deadline.
12:59pm: According to Ian Rapoport of NFL.com (via Twitter), Washington is keeping all of its options open on Cousins, and hasn't ruled out the possibility of tagging him, then trading him.
12:42pm: Washington will use a tag on Kirk Cousins, according to Adam Schefter of ESPN.com, who tweets that the "only decision left" is whether to place the franchise or transition tag on the quarterback. While Schefter doesn't mention it, the team will also have to weigh the exclusive vs. the non-exclusive franchise tag.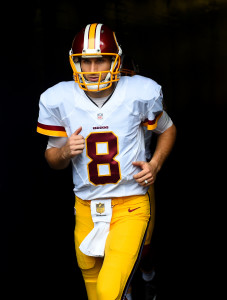 The transition tag, the least expensive of the three options, would allow Washington to match any other team's offer sheet for Cousins once he reaches free agency, but the club wouldn't receive any compensation if it declines to match that offer sheet. The non-exclusive franchise tag would also allow Cousins to sign an offer sheet elsewhere, but Washington would get two first-round picks from the signing team in that scenario. The exclusive franchise tag, the most expensive option, prevents any other team from negotiating with the quarterback.
[RELATED: PFR's glossary entry on franchise and transition tags]
Speaking to reporters on Wednesday about Washington's negotiations with Cousins, GM Scot McCloughan said that he has met with the quarterback's agent face-to-face this week, describing the sit-down as "very positive," per Mike Jones of the Washington Post (Twitter link). According to McCloughan, conversations are going on "every day" between the two sides, and he remains optimistic that something will get done (Twitter link).
Still, with Cousins holding most of the leverage in contract talks, he has long been viewed as a prime candidate to be franchised, since Washington probably can't afford to let him hit the open market, and there's little motivation for him to take a discount on a multiyear deal.
No player in the league did more over the last four weeks of the regular season to help his stock than Cousins, who completed 74% of his passes for nearly 1,200 yards, while posting a 12:1 touchdown-to-interception ratio to go along with a 134.0 quarterback rating. For the season, Cousins thew 29 touchdowns against 11 interceptions, led the league in completion percentage (69.8%), and helped Washington win its first division title since 2012.
Photo courtesy of USA Today Sports Images.
Follow @PFRumors