6:17pm: The 49ers are planning to keep Kaepernick and they would fully guarantee his salary today if he was ready to commit to being San Francisco's quarterback, according to Ian Rapoport of NFL.com (Twitter link). Rapoport's tone seems to indicate that No. 7 still has hard feelings for Niners brass. In any event, the 49ers do not seem poised to trade him between now and Friday.
5:08pm: The possibility of a trade sending Colin Kaepernick to the Broncos is losing momentum, league sources tell Jeremy Fowler of ESPN.com (video link). One source tells Fowler that while the deal isn't totally dead, Kaepernick "clearly isn't [Denver's] priority right now."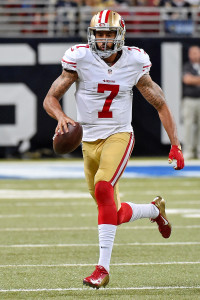 Time may be ticking for the 49ers if they hope to trade Kaepernick to the Broncos – or any other team – as the quarterback's $11.9MM 2016 salary becomes fully guaranteed on Friday (April 1st). It's conceivable that a team could deal for Kaepernick after that deadline, but in the case of the Broncos, it might be a tough squeeze for them as they have limited cap space and other expenses on the horizon, including a new deal for Von Miller.
Earlier this month, word was that the Broncos told the 49ers they believe that Kaepernick is worth a fourth-round pick. However, Denver did not offer a specific fourth-rounder. Denver's fourth-rounder for 2016 currently belongs to the Ravens due to a previous trade, but the Broncos do hold the final non-compensatory pick of the third round. Ostensibly, the 49ers are looking for more than that if they are going to deal the one-time face of their franchise.
The Browns and Jets have also been connected to Kaepernick. However, the Jets' top priority appears to be getting a new deal done with Ryan Fitzpatrick. And, just one week ago, Browns exec Sashi Brown told media members that rumors of his organization's interest in Kaepernick have been "way over-reported."
Photo courtesy of USA Today Sports Images.
Follow @PFRumors