Colin Kaepernick's Wednesday workout with the Raiders put the high-profile passer back squarely on the NFL radar. The audition has not produced a signing, and it does not look like an agreement will come to pass in the near future.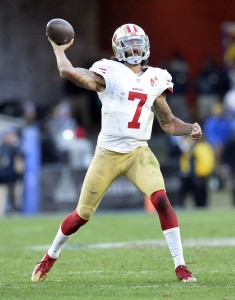 Although the Raiders viewed Kaepernick's workout positively, ESPN.com's Jeremy Fowler notes no deal is imminent. Teams often circle back to workout players down the road, and a recent report indicated two other teams showed some level of interest in Kaepernick. For now, the Raiders are sticking with their Nick Mullens–Jarrett Stidham duo behind Derek Carr. The recently added backups may have OTAs and minicamp to prove themselves as viable QB2 options.
Although Las Vegas could potentially upgrade with Kaepernick as its backup to Carr, the former San Francisco starter has not played in the NFL since the 2016 season. The 34-year-old quarterback, by all accounts thus far, displayed quality arm strength and good fitness at his workout. That is impressive considering how long it has been since his controversial stay in free agency began. Rust should be understandable, given the circumstances.
The Raiders are not believed to be viewing Kaepernick as a player who would contribute in a Marcus Mariota fashion in specialty packages. They are looking for a Carr backup. Josh McDaniels did head the Patriots' Cam Newton-led offense in 2020, but the veteran play-caller's career has mostly featured pocket QBs.
McDaniels, of course, broke into the OC ranks with Tom Brady. After helping the 2008 Patriots to an 11-5 season with Matt Cassel starting 15 games, McDaniels parlayed that into a head-coaching opportunity in Denver, where he promptly swapped out Jay Cutler for Kyle Orton. Although McDaniels did greenlight a trade up for Tim Tebow in the 2010 first round, Tebow did not make any starts under McDaniels, who spent the 2011 season running a Rams offense that primarily featured Sam Bradford at the controls. The least mobile of the five QBs chosen in Round 1 last year, Mac Jones rounded out McDaniels' Patriots run, replacing Newton.
Newton remains a free agent but has only been connected to the Panthers this offseason. The pickings at quarterback are otherwise slim, headlined by Josh Rosen, Blake Bortles and ex-Raider Mike Glennon. Ryan Fitzpatrick, 39, has not yet retired and has proven more than this group as a backup option, but he missed 16 games due to injury last season.