A weekend report from The Denver Post suggested that future Hall-of-Fame quarterback Peyton Manning was expected to announce his retirement soon, but the Broncos and Manning's camp quickly refuted the notion that the signal-caller had made that decision yet. Agent Tom Condon reiterated that stance during an appearance on 104.3 The Fan in Denver on Wednesday.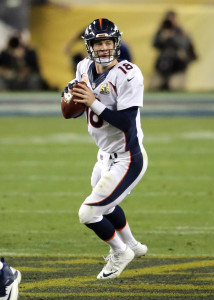 "To tell you the truth, I know that Peyton has not decided," Condon said, per Michael David Smith of Pro Football Talk.
Although Manning may not have announced – or made – his decision, the winning quarterback of Super Bowl 50 made a lengthy speech at a fundraising event in Florida on Wednesday, and Jeff Darlington of NFL Media suggests, during an interview on PFT Live, that Manning sounded like a player who doesn't want to call it a career quite yet.
"He did talk in present tense when he's talking about his career," Darlington said, per Smith. "He sounds like a guy who still wants to play. He does not sound like a guy who is a week away from retirement."
As Darlington and others try to read between the lines to determine Manning's outlook, the quarterback himself is "angry" about recent reports on his retirement and on an incident with trainer Jamie Naughright that occurred at the University of Tennessee two decades ago, according to Jason Cole of Bleacher Report (video link). Manning has yet to publicly address the re-emergence of that story, but Cole hears from a source close to the QB that Manning feels as if he's being pushed into retirement.
If Manning does want to keep playing, or if he postpones his retirement decision beyond next Tuesday, it appears extremely likely that the Broncos will cut him before his $19MM salary for 2016 becomes guaranteed on March 9th. In that case, the former first overall pick would have the freedom to sign elsewhere now or later, though it remains to be seen how aggressively other teams would pursue him.
According to Cole, the Rams, Texans, and Jets are among the clubs that might have interest in Manning if he opts not to retire and becomes available, but Cole classifies that interest as "tepid at best."
Photo courtesy of USA Today Sports Images.
Follow @PFRumors