We're about a week and a half into the 2016 league year, and most of the top free agents have signed – or at least agreed to – new contracts. With teams shifting their focus to draft preparation for the next several weeks, the height of this year's free agent period is now behind us, but that doesn't mean there aren't still many players available who will land new deals of their own in the coming weeks and months.
With the help of our top 50 list of free agents, and our complete breakdown of all the free agents still available, here's a breakdown of some of the most notable players at each offensive position who are still not under contract.
Quarterback: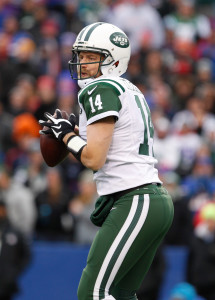 Somewhat surprisingly, Ryan Fitzpatrick remains unsigned, having been unable to find common ground with the Jets or to generate a ton of interest from other teams. Neither the Jets nor other potential suitors, such as the Broncos, are likely to get into a bidding war for Fitzpatrick, who doesn't want to settle for a below-market deal after seeing how guys like Kirk Cousins, Brock Osweiler, and Sam Bradford did this month. I'd expect the veteran to ultimately re-up with the Jets before offseason workouts get underway.
Elsewhere, Robert Griffin III and Johnny Manziel are among the young, once-promising quarterbacks who have been released recently, but Manziel, at least, likely won't sign anywhere until he commits to making some changes in his personal life.
Tarvaris Jackson, Michael Vick, and Brandon Weeden are a few of the probable backups still available, while Case Keenum and Matt McGloin are technically still free agents as well, but won't receive much interest due to the RFA tenders – and draft pick compensation – attached to them.
Running back:
Alfred Morris is the top running back still on the board, and the relative lack of interest in him is perhaps a sign that teams were put off by the drop-off in his 2015 production. He has a visit with the Cowboys lined up, but it doesn't look like he'll land the sort of lucrative, multiyear deal that fellow free agent backs like Chris Ivory and Lamar Miller did.
There are several recognizable names out there on the running back market, but many are either on the wrong side of 30 or will turn 30 later this year, so clubs will have to determine how much those players have left in the tank — Joique Bell, LeGarrette Blount, Reggie Bush, Tim Hightower, Fred Jackson, and Pierre Thomas are among the free agents who fit that bill.
One of the younger backs still available is 24-year-old Ronnie Hillman, who is coming off a career year (863 yards, seven touchdowns, 4.2 ypc). The Broncos brought back Hillman's backfield mate C.J. Anderson on a four-year, $18MM contract, so it'll be interesting to see whether Denver has room to re-sign Hillman as well.
Arian Foster and Stevan Ridley are two players worth mentioning as well, though their health will be a key consideration for suitors. Foster is coming off a torn Achilles and turns 30 this August, so I imagine teams will be reluctant to add him until he shows he's close to a full recovery. Ridley, meanwhile, is another year removed from a devastating ACL/MCL tear, so he may have more potential for 2016 than he showed in 2015.
Wide receiver: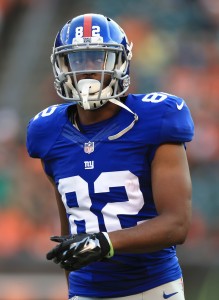 Top options like Marvin Jones, Travis Benjamin, Mohamed Sanu, and Rishard Matthews were snatched up in the early days of free agency, but plenty of intriguing names remain. The most intriguing one is Rueben Randle, who turns 25 this month and has averaged 64 receptions and 868 yards in his last two seasons. While Randle's youth and talent are appealing, the Giants reportedly questioned his work ethic and his "desire to be great." One has to imagine those factors are playing a part in the fact that he's still unsigned, though he reportedly paid a visit to the Rams.
Outside of Randle, the most noteworthy free agent wideouts still in their 20s are players with question marks, such as Hakeem Nicks, Percy Harvin, Brandon LaFell, and Riley Cooper. Nicks and Harvin certainly have plenty of upside, but it has been a while since they've had really strong seasons, and it's looking increasingly unlikely that they'll ever regain that form.
Currently, the market for receivers is dominated by big-name veterans. Anquan Boldin and James Jones lead the pack as two players coming off strong seasons, who saw their contracts expire rather than having them terminated. Veterans who have been cut in recent weeks include Dwayne Bowe, Marques Colston, Greg Jennings, Andre Johnson, and Roddy White.
Tight end:
The tight end ranks have thinned out considerably in the first week and a half of free agency, but there are still some veteran pass catchers out there for teams in the market for a player who fits that mold. Jared Cook is probably the most appealing option, but guys like Owen Daniels, Vernon Davis, and Scott Chandler should also draw some interest. Cook has met with the Packers, while Davis visited Washington.
If teams are seeking out a blocking option instead, there are several of those worth targeting as well. Clay Harbor and John Phillips, for instance, each made their way into our top 15 list for tight ends when free agency began earlier this month, and have yet to find new NFL homes.
Offensive line: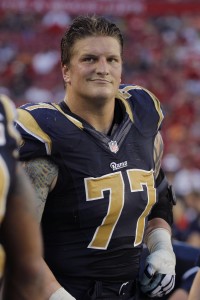 Two offensive tackles from our top 15 are still available, and both players are veterans with troublesome injury histories. I still expect Will Beatty and former first overall pick Jake Long to land deals at some point, but in a market where even younger tackles like Russell Okung and Kelvin Beachum were forced to settle for team-friendly deals due to health concerns, I can't imagine Beatty or Long finding a huge payday. Nate Chandler, Jason Fox, and Don Barclay are among the other UFA tackles available.
At guard, the pattern is somewhat similar. Jahri Evans, Willie Colon, Chris Chester, Ben Grubbs, Todd Herremans, Kraig Urbik, and Manuel Ramirez are all in their 30s, and for some of them, health issues may keep them on the market for a while yet. However, there are still some intriguing options in that group and elsewhere. Jon Asamoah, Louis Vasquez, and Geoff Schwartz also remain in play.
Finally, the center market wasn't deep when free agency began, and with Ben Jones having signed quickly, it looks even thinner now. But Stefen Wisniewski should appeal to clubs, having been a steady presence in the middle of the line for the Raiders and Jaguars in recent years. J.D. Walton, Lyle Sendlein, Will Montgomery, and Ryan Wendell are among the other centers with extensive starting experience within the last couple seasons.
Photos courtesy of USA Today Sports Images.
Follow @PFRumors