It sounds like it's for real this time. Peyton Manning will announce his retirement tomorrow in Denver, per ESPN's Chris Mortensen (article via Jeff Legwold of ESPN.com). The Broncos' official website has confirmed the report, and as Troy E. Renck of The Denver Post writes, Manning broke the news to GM John Elway and head coach Gary Kubiak last night. Manning's press conference will be held at 1pm EST tomorrow, according to Ian Rapoport of NFL.com (via Twitter).
Manning will leave the NFL as a two-time Super Bowl champion, and the league's all-time leader in total wins by a QB (200), passing yards (71,940) and passing touchdowns (539). He also holds the record for most single-season TD tosses (55, set in 2013). Additionally, the No. 1 overall pick of the 1998 draft has racked up 14 Pro Bowl bids, seven First-Team All-Pro selections, and five MVP awards on the heels of a stellar career at the University of Tennessee. He retires as the highest-paid player in NFL history, earning nearly $250MM over the course of his career (per Sportac).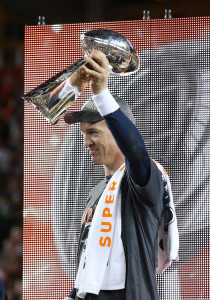 Manning spent the first 14 seasons of his remarkable career with the Colts, but after undergoing neck surgery in May 2011, Manning was still unable to complete his throwing motion and ultimately was forced to undergo spinal fusion surgery and miss the entirety of the 2011 season. That snapped his streak of 208 consecutive regular season starts and cast his NFL future into serious doubt. Indeed, when he began his recovery from the spinal fusion surgery, he could barely throw a football 10 yards, and even after he signed a highly-lucrative contract with Denver in March 2012, the Broncos were uncertain enough about Manning's abilities that they drafted Brock Osweiler in the second round of the 2012 draft.
All of which makes Manning's accomplishments with the Broncos all the more remarkable. During his four-year stint in the Mile High City, Manning completed 66.5% of his passes for 17,112 yards, 140 touchdowns against 53 interceptions, and he picked up three of his Pro Bowl nods, two of his First-Team All-Pro selections, one of his MVP awards, and of course, one of his two Super Bowl rings.
The 2015 campaign, though it ended in triumph, was perhaps the most difficult of Manning's career, as he appeared in 10 regular-season games and compiled his second-lowest completion percentage (59.8%), not to mention personal worsts in touchdown passes (nine, against 17 interceptions) and QB rating (67.9). Manning was out of action for the second half of November and all of December because of a foot injury, but he relieved a banged-up Osweiler in Week 17 and never relinquished the starting job. Manning worked in a game manager role during the postseason, when the Broncos' defense led the club to wins over the Steelers, Patriots and Panthers en route to a Super Bowl title.
In addition to his on-field difficulties in 2015, Manning faced scrutiny for his off-field behavior. In December, Al-Jazeera America released a documentary alleging that Manning and his wife, Ashley, received shipments of human growth hormone from the Guyer Institute as Manning was recovering from the above-referenced surgery. Manning has vehemently denied those allegations and even threatened legal action.
Manning is also among the athletes cited in a lawsuit filed by a number of women claiming that the University of Tennessee violated Title IX regulations and fostered a "hostile sexual environment" through its indifference to assaults allegedly committed by student-athletes. Manning is accused of placing his naked genitals on the face of trainer Dr. Jamie Naughright while she was examining him in 1996. Manning has denied the assault, claiming that he was mooning a teammate when the alleged incident took place, and Naughright's earlier lawsuit against Manning himself was ultimately settled in 1997 with the agreement that Naughright leave the university.
A report last week suggested that Manning would indeed announce his intention to retire, but shortly after that report was published, other writers were quick to observe that Manning had not yet finalized his decision. It was still widely-expected that Manning would hang up the cleats, and even if he did choose to play for another season, it would not have been for the Broncos. If Manning had not made up his mind by the time his $19MM 2016 salary became fully-guaranteed on March 8, the Broncos would have been forced to release him so that they could clear his $19MM cap hit from the books. Now that Manning has decided to retire, Denver will perhaps use a good chunk of that money to sign Osweiler to a multi-year deal, thus signaling not only the end of a Broncos era, but the end of an NFL epoch.
We at Pro Football Rumors congratulate Manning, arguably the greatest quarterback of all time, on a remarkable career and wish him well in his future endeavors.
Connor Byrne contributed to this post
Photo courtesy of USA Today Sports Images
Follow @PFRumors