Eight days after being released by the Browns, free agent safety Donte Whitner will take his first reported visit, as Mike Florio of Pro Football Talk reports that Whitner has landed in Los Angeles for a meeting with the Rams.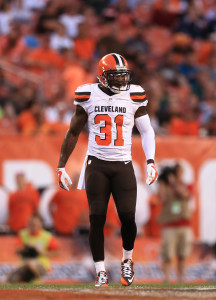 Following the Raiders signing of Reggie Nelson last week, Whitner represents the clear best option on the safety market, so it makes sense that the Rams are showing interest as they seek to replace Rodney McLeod, who signed with the Eagles on the first day of free agency. Whitner wouldn't be a perfect proxy for McLeod, as the two are very different players — Whitner is more of an "in-the-box" safety who plays close to the line of scrimmage, while McLeod was a rangy free safety who manned center field.
Still, talent is talent, and Whitner is still a productive player as he enters his age-31 season. In 2015, he started 14 games in Cleveland, defensing four passes, forcing one fumble, and posting 1.5 sacks. Whitner also graded out well via the advanced metrics at Pro Football Focus, which rated him as the league's No. 24 safety among 89 qualifiers.
Even after re-signing many of their own free agents, the Rams still have roughly $12.3MM in cap space remaining, so it shouldn't be a problem to fit Whitner onto the books. Whitner averaged cap hits of $5.5MM over his first two years with the Browns, and he should be able to earn a similar figure — or perhaps a tad less — if he signs with Los Angeles.
Photo courtesy of USA Today Sports Images.
Follow @PFRumors