Former Saints defensive end Will Smith was shot and killed in the Lower Garden District of New Orleans late Saturday night, according to Wilborn P. Nobles III of The Times-Picayune. More details were provided by CBSNews.com, which reported that Smith's Mercedes SUV was rear-ended by a Hummer H2, and the impact caused Smith's SUV to rear-end the vehicle in front of him, driven by one of Smith's friends.
At approximately 11:30pm, Smith exited his vehicle and began arguing with the driver of the Hummer, who has not yet been identified but who is reportedly 30 years old. The driver allegedly "unloaded a fusillade of bullets" at Smith and his vehicle–a witness said she heard six to eight gunshots–and Smith was ultimately found slumped over the steering wheel of his vehicle, which appeared to have a bullet hole in the windshield.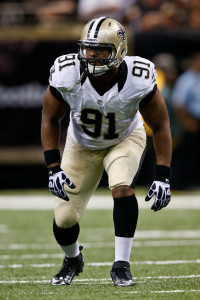 Smith was pronounced dead at the scene. Smith's wife was shot in the leg multiple times, but is expected to survive. The driver of the Hummer and another person have been apprehended and are being questioned, and the gun used in the shooting has been recovered.
The Smith family has issued the following statement (Twitter link via Evan Woodberry of The Times-Picayune):
"On behalf of the Smith family, we are thankful for the outpouring of support and prayers. We ask that you continue to respect the family's privacy as they grieve the loss of a devoted husband, father, and friend."
Smith was a highly productive player for the Saints after being selected by the club in the first round of the 2004 draft. The Ohio State product, who also excelled at the collegiate level, posted 67.5 career sacks, including double-digit sack totals in 2006–when he earned his first and only Pro Bowl nod–and 2009. He was also an integral part of the Saints' Super Bowl run in 2009. He did sign on with the Patriots prior to the 2014 campaign, but he was released by New England before the regular season began.
We at PFR offer our thoughts and condolences to Smith's family and friends.
Photo courtesy of USA Today Sports Images
Follow @PFRumors