The Raiders lost out on a potential move to Los Angeles earlier this year, but the upcoming week could prove to be an important one if the club wants to relocate to Las Vegas. As Mike Florio of Pro Football Talk reports, owner Mark Davis will attend a Thursday meeting of the Southern Nevada Tourism Infrastructure Committee, and if financing for a move is approved, Davis could pledge to take the Raiders from Oakland to Las Vegas, according to Jason Cole of Bleacher Report (Twitter link).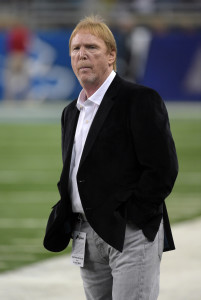 As such, this week is "huge" for the Raiders, tweets Vincent Bonsignore of the Los Angeles Daily News, who adds that the team is very serious about a potential move (link). So, though the Raiders lost out in their attempt to relocate to LA, it's critical to remember that the club was approved for a move — as Bonsignore notes, if funding for a new stadium is approved, it could just be a matter of time until the Raiders are ready to go (Twitter links).
If financing does go through, the Raiders will still need league approval, as 24 teams (including Oakland) would need to sign off on a potential move. As far as a relocation fee, Bonignore hears that the payment won't be anywhere near the $550MM that the Rams paid to move to Los Angeles — in fact, the fee could be completely waived (Twitter link).
Photo courtesy of USA Today Sports Images.
Follow @PFRumors