During the draft, linebacker Mike Neal made some waves when he took to Twitter and expressed his feeling that the team's third-round selection of Utah State linebacker Kyler Fackrell would spell the end of his time in Green Bay. Soon after, team director of player personnel Eliot Wolf said that the veteran free agent has "moved on" from the team. However, Neal tells Michael Cohen of the Journal-Sentinel that his infamous tweet was meant to be sarcastic and the veteran still won't rule out a return to the Packers.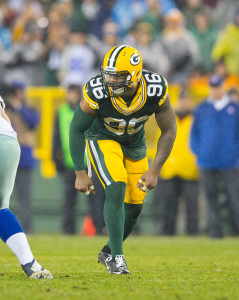 "I'm not here to throw anyone under the bus," Neal said, while adding that he "definitely" wants to continue playing football. "I love Green Bay. They've started my life off great, so how can you ever be mad at that? You know what I'm saying? You can never be mad at that. That's just a business, that's what they choose to do. I'm in a good place. I couldn't be in a better place."
Neal visited the Seahawks and Lions earlier this offseason but it doesn't appear that either visit lead to a realistic contract offer. The linebacker also says that the Packers never made him a contract offer to return. During the opening stages of free agency, the Packers informed Neal's agent that they would circle back once they had explored other targets of interest. After that time lapsed, Green Bay execs never called, and Neal, whose feelings were admittedly hurt, instructed his agent not to go chasing them.
Neal has been a key player for the Packers for years now, having recorded at least 4.0 sacks in each of the last four years. On paper, there's little reason as to why he would be without a team in mid-May. However, Neal feels that the Al Jazeera report from 2015 has "heavily, heavily, heavily, heavily, heavily" influenced his free agency process. For what it's worth, it doesn't sound like the 28-year-old will face discipline over the PED accusations as he says the NFL has not contacted him about the documentary.
Photo courtesy of USA Today Sports Images.
Follow @PFRumors