When the Packers selected Utah State linebacker Kyler Fackrell in the third round of the draft on Friday night, free agent linebacker Mike Neal took to Twitter to indicate that his tenure with Green Bay had come to an end. As Michael Cohen and Lori Nickel of the Milwaukee Journal-Sentinel write, Neal backpedaled from that remark in subsequent tweets, suggesting that he was simply being sarcastic and "playing games" with the media.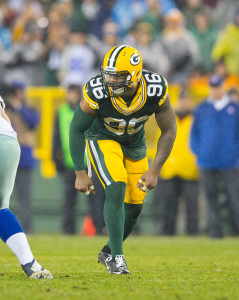 However, team director of player personnel Eliot Wolf appears to be taking Neal's original tweet at face value. Wolf spoke to the media on Saturday afternoon, and in response to a question about adding size to the defense, he said, "I think it's a priority. Obviously with B.J. (Raji) retiring, we lost some guys up front, and Mike Neal's moved on so it just looks like something that we addressed as need, and we've been able to fill it so far. Couple more picks to go."
GM Ted Thompson, though, was more noncommittal than his young associate. Thompson said, "There's a lot of different things that can happen during the course of an off-season that would change things. So I wouldn't be strong enough to say that [we have moved on from Neal]."
Neal, Green Bay's second-round pick in the 2010 draft, has spent his entire career with the Packers. He has become a regular part of the team's front seven rotation–starting 15 games in 2015–and has racked up at least four sacks in each of the past four seasons. He visited the Seahawks and Lions during the early stages of free agency, and at that time, the Packers had not ruled out a reunion. With Fackrell in the fold, though, it appears as though at least one high-ranking member of the Packers' front office is prepared to part ways.
Without Neal, the Packers have six outside linebackers on the roster: Clay Matthews, Julius Peppers, Nick Perry, Jayrone Elliott, Lerentee McCray and Fackrell.
Photo courtesy of USA Today Sports Images
Follow @PFRumors