Bill Belichick sees a "strong trend" in the NFL with hybrid defensive players, as Mike Reiss of ESPN.com writes. This year, the Patriots followed that trend when they selected Kamu Grugier-Hill of Eastern Illinois in the sixth-round, a player who played linebacker in college but could play safety in the NFL.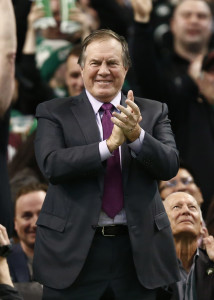 "I think that you are definitely seeing a strong trend in the league towards corners that play safety or corner-type athletes that play safety, bigger safeties that play linebacker. Both of those are trends," Belichick said during the draft.
At 6'2″ and 215 pounds, Grugier-Hill is on the bigger side for a safety but light for a linebacker in the team's base defense. The Patriots wil likely move him between both positions, depending on their needs throughout the season and during each drive.
Here's more out of New England:
The Patriots have offset language on Dominique Easley's $1.084MM salary, as Ben Volin of The Boston Globe (Twitter links) points out. The Patriots now only owe Easley the difference between that figure and what the Rams pay him. The minimum salary for Easley is $600K, so at most, the Patriots will owe him roughly $484K.
If Tom Brady and the NFLPA successfully get U.S. Court of Appeals for the Second Circuit to give them another hearing, then the quarterback will likely avoid any suspension for the 2016 season as the legal proceedings drag on. However, even if the Second Circuit denies the petition, the Pats QB still has a path by which he can further delay his suspension, Mike Florio of PFT writes. The first step then would be for Brady to ask the Second Circuit for a stay of the suspension while an appeal to the Supreme Court is prepared. If that request is denied, Brady would present the question of whether the suspension will be stayed not to the Supreme Court justice assigned to the Second Circuit, Justice Ruth Bader Ginsburg. If Ginsburg were to issue a stay, Brady would not be suspended until 2017, at the earliest.
Photo courtesy of USA Today Sports Images.
Follow @PFRumors