Veteran Dwight Freeney says that he still wants to play in 2016, as Peter King of The MMQB writes. Things have been pretty quiet with regards to the 36-year-old this summer so far, but it sounds like he's still hoping to hook on with a team on a low-end one-year deal.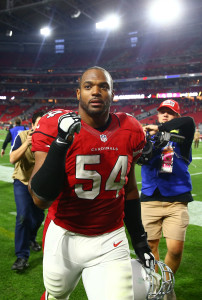 "I'm still having fun," Freeney said. "Why stop? I still have the fire to play. My body feels great. I still have more to give."
Freeney has said that he would like to return to the Cardinals for this upcoming season, though he is also very open to playing for another contender if that doesn't pan out. The veteran turned out to be a heck of a value for Arizona after he recorded eight sacks in 11 games at a modest salary of $970K. That sack total was his highest since his age-31 season in 2011 with the Colts. Impressively, Freeney set that watermark without having started a single game.
Over the course of 14 years in the NFL, Freeney has earned seven Pro Bowl selections and three First-Team All-Pro nods. He spent many of those years as a key member of the Colts' defense where he clashed frequently with Bill Belichick's Patriots. Despite that history, the veteran says he would not rule out a union with New England if they called.
"Well," Freeney said, "That's hard to fathom. But I'm not against Bill. I understand the dynamic involved, but at the end of the day, this is a business. My first allegiance right now is to Arizona, if they're interested. But if it happened that I ended up in New England, I can tell you, both sides would win."
Photo courtesy of USA Today Sports Images.
Follow @PFRumors