The Lions' Darius Slay is coming off his second straight 16-start, two-interception season, one in which Pro Football Focus (subscription required) ranked him as the second-best cornerback in the NFL. As a result of his on-field excellence, Slay – now in a contract year – wants to be paid like one of the league's top seven corners on his next deal, writes Dave Birkett of the Detroit Free Press.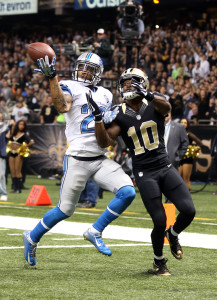 [RELATED: Lions Sign WR Andre Roberts]
In assessing his own performance, the 2013 second-round pick from Mississippi State said, "Right now I'll say top seven, just cause as long as (Darrelle) Revis is in the game, he's going to be the best corner to me. (Richard) Sherman's the best, 24 picks in three years, nobody ain't do that. Pat P (Peterson) of course. I love Chris Harris' game. (Aqib) Talib. Joe Haden. I feel like them are the real elite, elite, elite guys, so I feel like I'm an elite guy, but I feel like I got to keep working to get to their level because they're elite."
As of now, the seven highest-paid corners in the league average roughly $14MM per year in salary and nearly $7.3MM in annual guarantees. Prices for high-end corners have continued rising since last season, with the likes of Josh Norman and Janoris Jenkins scoring massive contracts in free agency.
Regardless of the exact amount it takes to lock up Slay, the 25-year-old hopes the Lions are the ones doling out his checks for the foreseeable future. Slay, who hired Drew Rosenhaus as his agent in January and subsequently approached the Lions about an extension, told Birkett that he wants to remain in the Motor City for the long haul.
"I love the city, I love the fans, so that's why I came to them and asked them for it," he stated.

As for a time frame on an extension, Slay is aiming for sometime this summer, he told Birkett.
"I don't really know why it's that important, but I feel like it should be done then," Slay said.
Slay is currently on track to earn just under $1MM in 2016.
Photo courtesy of USA Today Sports Images.
Follow @PFRumors