More than a week after Aqib Talib was shot in Dallas, the specifics of the incident are still shrouded in mystery. The Dallas Police Department is still struggling to gain intel into what happened on the morning of June 6th and few people, if anyone, are talking, Ian Rapoport of NFL.com reports (Twitter links). As of this writing, police have not recovered the weapon used the night Talib was shot and there are few or no witnesses. Furthermore, the club where Talib was supposedly frequenting hasn't confirmed that he was there.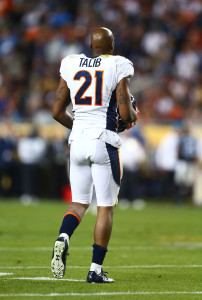 The five Ws of the ordeal (what/who/where/when/why, for those of you who pursued better majors in college) of the situation are still up in the air, but what we do know is that Talib emerged relatively unscathed. The bullet entered and exited Talib's leg without hitting any arteries or tearing any ligaments and the cornerback has reported back to the Broncos. Talib is not participating in this week's minicamp, but if all goes well he may be able to suit up for the start of training camp later this summer.
Details of what transpired could impact Talib and the Broncos in 2016. Needless to say, commissioner Roger Goodell is not crazy about players being linked to gunplay and Talib has a history of running afoul of league policy. Specifically, Talib has a history with weapons and it would appear that Talib was intoxicated on the night/early morning in question. The lax gun laws in Texas probably mean that Talib will not face criminal charges even if the nature of the event was of the Plaxico Burress variety. However, the league office could still take action against the 30-year-old.
Photo courtesy of USA Today Sports Images.
Follow @PFRumors