Free agent offensive tackle Eugene Monroe, whom the Ravens released June 15, told SiriusXM NFL Radio on Tuesday that he remains in no hurry to sign anywhere, though he added that his camp has "been in discussions with a few teams."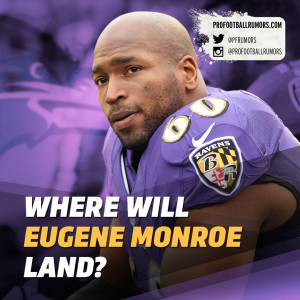 "I don't feel like I have to jump on one of the first opportunities that come up. I'm just trying to be patient, wait on the right opportunity, and also just decide what's going to be the best move for my family," he said (via Clifton Brown of CSN Mid-Atlantic). "I have a wife and three children. There's a lot more at stake than simply just jumping on a deal."
Monroe, who has 90 starts and 93 appearances under his belt during his seven-year career, was somewhat evasive when asked if he'd be willing to switch from left to right tackle for his new employer. The Giants, among the teams interested in adding Monroe, prefer him on the right side.
"I'm waiting on the best situation for me. What that looks like, time will tell," the 29-year-old stated.
One issue that might have contributed to Monroe's release from Baltimore and could ostensibly scare away other teams from the 6-foot-5, 310-pounder is his unabashed marijuana advocacy, on which he also spoke Tuesday.
In regards to the Ravens using it as an excuse to move on from Monroe, he said, "My hope is that it does not play a role. I'm not naive to think that it can't. However, I was told that (the Ravens) made a football decision, so that's what they did and now I'm a free agent."
Monroe opined that the NFL should not test players for marijuana and called doing so "archaic," referring to pot as "medically viable" and "safer than most substances that people consume, whether it's a pharmaceutical drug that's synthetic and compounded or if it's anything else that people are looking (for) for relief."
It's unclear whether that viewpoint will damage Monroe's earning power in a league that does test for marijuana. So far, in addition to the aforementioned Giants, teams linked to Monroe include the Seahawks, 49ers and Panthers, though the Seattle Times' Bob Condotta doesn't regard the Hawks as a likely fit. After the Ravens gave Monroe the ax, PFR's Dallas Robinson ran down a handful of other clubs that could vie for the former eighth overall pick's services.
Photo via Pro Football Rumors' Instagram account. Give PFR a follow!
Follow @PFRumors