Since being released by the Ravens last week, offensive tackle Eugene Monroe has been linked to several clubs, including the Giants, Seahawks, and 49ers. Jason Cole of Bleacher Report (video link) confirms that those teams have indeed expressed interest in Monroe, and adds that the Panthers could be another potential landing spot for the free agent tackle.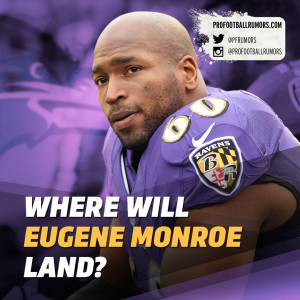 [RELATED: Carolina Panthers depth chart]
If it signed Monroe, Carolina could shift incumbent left tackle Michael Oher to the right side, according to Cole — it should be noted, however, that Cole's report was published before the Panthers and Oher agreed to a multi-year extension, which could affect any attempts to move Oher to right tackle. From my vantage point, one other possible scenario could entail simply placing Monroe at right tackle, and moving 2015 starter Mike Remmers into a swing tackle role.
Monroe, a career left tackle, might not be open to that move, however, as Cole reports that Monroe is reticent to move to the right side, and in fact rejected offers from the Giants because they necessitated him moving to right tackle. Dan Graziano of ESPN.com disputes that nugget, writing that while Monroe would prefer to stay on the blindside, he would be "willing" to move to right tackle if that's the only opportunity that presented itself. New York would likely use Monroe on the right side, per Graziano, despite that fact that 2015 rookie Ereck Flowers graded as one of the four worst tackles in the league, according to Pro Football Focus.
[RELATED: New York Giants depth chart]
Monroe doesn't appear to be rushing into signing any time soon, and reports have indicated that he'll begin taking visits with prospective employers next week. I recently ran down a list of eight clubs — including several mentioned above — that could have interest in signing Monroe.
Photo courtesy of Pro Football Rumors on Instagram.
Follow @PFRumors