Nearly every mention of former Browns quarterback Johnny Manziel on PFR in recent months has been negative, and the latest update, sadly, is no different. Manziel's father spoke with Josina Anderson of ESPN.com (Facebook link) about his son's life off-the-field, and voiced his concerns for the former Heisman winner.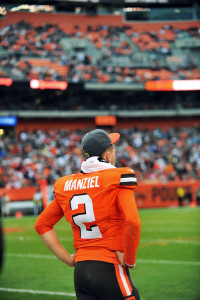 "He's a druggie. It's not a secret that he's a druggie. I don't know what to say other than my son is a druggie and he needs help. He just hasn't seeked it yet," said Paul Manziel. "Hopefully he doesn't die before he comes to his senses. That's about all you can say. I don't know what else to say. I hate to say it but I hope he goes to jail. I mean, that would be the best place for him. So we'll see."
Paul Manziel's comments come on the heels of another incident involving his son — Manziel's lawyer accidentally texted the Associated Press and revealed details about his client's domestic violence case, not only admitting that a plea deal was the target, but mistakenly disclosing non-flattering aspects of Manziel's life. "Heaven help us if one of the conditions [of a plea bargain] is to pee in a bottle," wrote Manziel's attorney, suggesting that his client wouldn't be able to pass a drug test. The accidental text also described a receipt for more than $1K in drug paraphernalia that may have been purchased by Manziel, though that remains unconfirmed.
Manziel's rep recently said that his client is still preparing to play in the NFL in 2016, but admitted that a 2017 return was more likely. But at this point, a return to the league at any point seems like a stretch — if Manziel can't go more than a few weeks without an incident or negative press, no club is going to risk the backlash of signing him.
Photo courtesy of USA Today Sports Images.
Follow @PFRumors