If Reshad Jones were to make good on his threat to hold out for the entire 2016 season, the Dolphins would of course be worse off for it. But just how realistic is Jones' threat? According to Barry Jackson of The Miami Herald, not very.
Jackson himself said it would be surprising if Jones were to extend his contract protest into the season, but Jackson adds that even a source close to Jones concedes that Miami has no incentive to re-do a deal that pays the Georgia product $7.2MM and $7.1MM over the next two seasons. That contract makes him the highest-paid strong safety in the NFL, but does not place him among the five highest-paid safeties overall.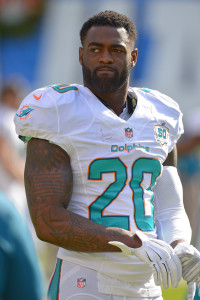 If the worst-case scenario comes to fruition and Jones does not report to the team, Jackson says that free agents Antrel Rolle and Louis Delmas are on the Dolphins' list of contingency plans. Neither option, however, is exactly ideal. Delmas, of course, has been with Miami for each of the past two seasons, and in 2014 he started 12 games for the Fins, racking up 60 tackles and an interception (which he returned for a touchdown), and ranking as a league-average safety per Pro Football Focus' advanced metrics. But he tore his right ACL towards the end of the 2014 campaign, and he tore that same ACL during practice last August, thereby ending his 2015 season before it even began. Delmas has always shown high-level talent, but his inability to stay healthy throughout his career and the severity of his most recent injuries have left the 29-year-old unemployed for the time being.
Rolle, meanwhile, spent the 2015 season with the Bears after spending the first five years of his career with the Cardinals and the next five with the Giants. Per PFF, he graded out as the 39th-best safety in the league last season (out of 89 qualifiers), and the biggest knock against him at this point is his age. He is now 33, and he played in only seven games last season after suffering a knee injury during a November practice. He has had a long and productive career, however, and the rangy safety–whom our Dallas Robinson lists as the eighth-best defensive free agent still on the market–could be a nice fit in Miami.
Needless to say, though, the Dolphins would rather have Jones, who set new career-highs in tackles (135), passes defended (10), and interceptions (five), last season. PFF ranked Jones as the 13th-best safety in the NFL in 2015, and of the 89 qualified safeties, only two received higher grades as run defenders than Jones did. As of right now, it seems that Jones will report to the club rather than hold out, but the Dolphins do have a Plan B just in case.
Photo courtesy of USA Today Sports Images
Follow @PFRumors