THURSDAY, 6:52pm: The NFL fired back at the NFLPA on Thursday, noting that sufficient grounds for an investigation are indeed present and the union's stance is "fundamentally at odds with the CBA," NFL senior vice president of labor affairs Adolpho Birch said in a letter to the union obtained by USA Today.
"While we readily agree that such evidence is required to support the imposition of discipline, nothing in the CBA or the policy imposes such a requirement before possible violations of the policy may be investigated," Birch wrote. "Obviously, the standard that you advocate — that the league cannot undertake an investigation unless and until it has established the facts and claims to be investigated — would simply ensure that there would be no investigations at all."
Birch's letter also mentioned the active players summoned in this investigation have an obligation to comply or face possible league-imposed discipline. The letter did not contain anything pertaining to Manning, who is retired and not currently represented by the NFLPA.
WEDNESDAY, 10:48am: Tuesday, the NFLPA sent the NFL formal letters on behalf of four players named in Al Jazeera's December documentary. In the letter, the union demanded that the league produce "sufficient credible evidence" before prying into the business of James Harrison, Clay Matthews, Mike Neal, and Julius Peppers.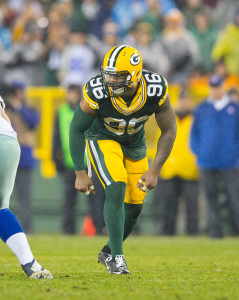 [RELATED: NFL Plans To Interview Peyton Manning]
"Especially in a business where the mere mention of a player-employee's name can generate ratings for a broadcaster, the NFLPA and Mr. Harrison do not believe that unsupported, unsubstantiated verbal remarks provide 'sufficient credible evidence' to initiate an investigation of, and require an interview with, an employee," the union wrote in a letter defending Harrison (Twitter link via Albert Breer of The MMQB).
Without "sufficient credible evidence," the NFL is not permitted to punish players for suspected use of performance enhancing substances, per the terms of the current Collective Bargaining Agreement. The NFLPA's letter cites this section of the CBA and argues that the since-recanted recordings Charles Sly do not meet the qualifications:
"Sufficient credible evidence includes but is not limited to: criminal convictions or plea arrangements; admissions, declarations, affidavits, authenticated witness statements, corroborated law enforcement reports or testimony in legal proceedings; authenticated banking, telephone, medical or pharmacy records; or credible information obtained from Players who provide assistance pursuant to Section 10 of the Policy."
In addition to Harrison, Matthews, Neal, and Peppers, the NFLPA was inclined to tell Peyton Manning not to participate in the league's investigation, because it feels the NFL lacks jurisdiction in that area, Breer tweets. Still, Manning may participate anyway, because of the possibility that he may wish to become a front office executive (Twitter link). Because he is retired, he is being handled separately and he cannot truly be forced to act one way or another by either the league office or the union.
Photo courtesy of USA Today Sports Images.
Follow @PFRumors