After a mysteriously quiet 2007, Julius Peppers mounted a strong comeback campaign in '08. Then, on the heels of notching a career-high 14.5 sacks and helping the Panthers return to the playoffs, Peppers wanted out. Specifically, Peppers expressed a desire to join a team with a 3-4 scheme so that he could move from defensive end to linebacker.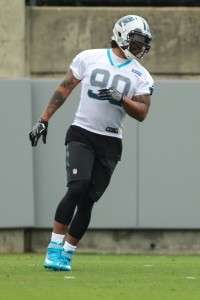 Peppers insisted that he would never sign a long-term deal with Carolina and tried hard to discourage the team from using the franchise tender on him in the 2009 offseason.
"The front office has been informed of my desire to explore opportunities with other NFL teams following the expiration of my contract next month," Peppers said in a statement (via ESPN.com). "At this point in my NFL career, I am seeking new challenges that will allow me to grow, develop and reach my personal potential on the football field."
The Panthers held firm, however, and applied the one-year, $16.7MM placeholder on their top defender. In theory, another team could have signed Peppers as a restricted free agent, but that would have required the forfeiture of two first-round picks on top of a mammoth contract. While he was stuck between a rock and a hard place, Peppers abstained from offseason activities. The multiple-time Pro Bowler's absence cast a serious shadow over the Panthers' offseason and made the football world wonder whether the Panthers would cave and trade him.
Ultimately, Peppers' agent was unable to find a suitable deal for him. And, on June 26, 2009, Peppers inked his one-year deal with the Panthers.
Peppers earned another Pro Bowl nod in 2009, and that proved to be the final season of his first Panthers run. After the season, the Panthers declined to use the franchise tag on him, allowing him to reach unrestricted free agency and to a six-year, $91.5MM deal with the Bears. When that deal was terminated in 2014, he stayed in the NFC North and signed with the Packers.
It took a while, but Peppers ultimately came full circle. In 2017, the veteran joined the Panthers on a one-year, $3.5MM deal. A few months later, the Panthers canned GM Dave Gettleman and brought back Marty Hurney as their top football executive, but there were no hard feelings between Peppers and Hurney.
Last March, Peppers and Hurney shook hands on a new one-year, $5MM deal to keep the then 38-year-old in Carolina. Then, this past February, Peppers walked away from the game with 159.5 career sacks.