NFL free agency will get underway on Wednesday, March 14th, and while the list of free agents will change between now and then, we do have some idea of who will be available when free agency kicks off. The frenzy is right around the corner and it's time for us to break down the outlook for each position. We'll start today on offense, before getting to defense and special teams later this week.
Listed below are our rankings for the top 15 free agents at each offensive position. The rankings aren't necessarily determined by the value of the contracts that each player is expected to land in free agency, they are simply the players we like the most at each position, with both short- and long-term value taken into account. Restricted and exclusive-rights free agents are not listed here since they are unlikely to actually reach the open market. The same goes for players who have been franchise tagged or transition tagged.
We'll almost certainly be higher or lower on some guys than you are, so we encourage you to make your voice heard in our comments section to let us know which free agents we've got wrong.
Here's our breakdown of the current top 15 free agents by offensive position for 2018:
Quarterback:
There were many difficult calls when putting this list together, but ranking Kirk Cousins as the No. 1 QB available was not among them. Cousins is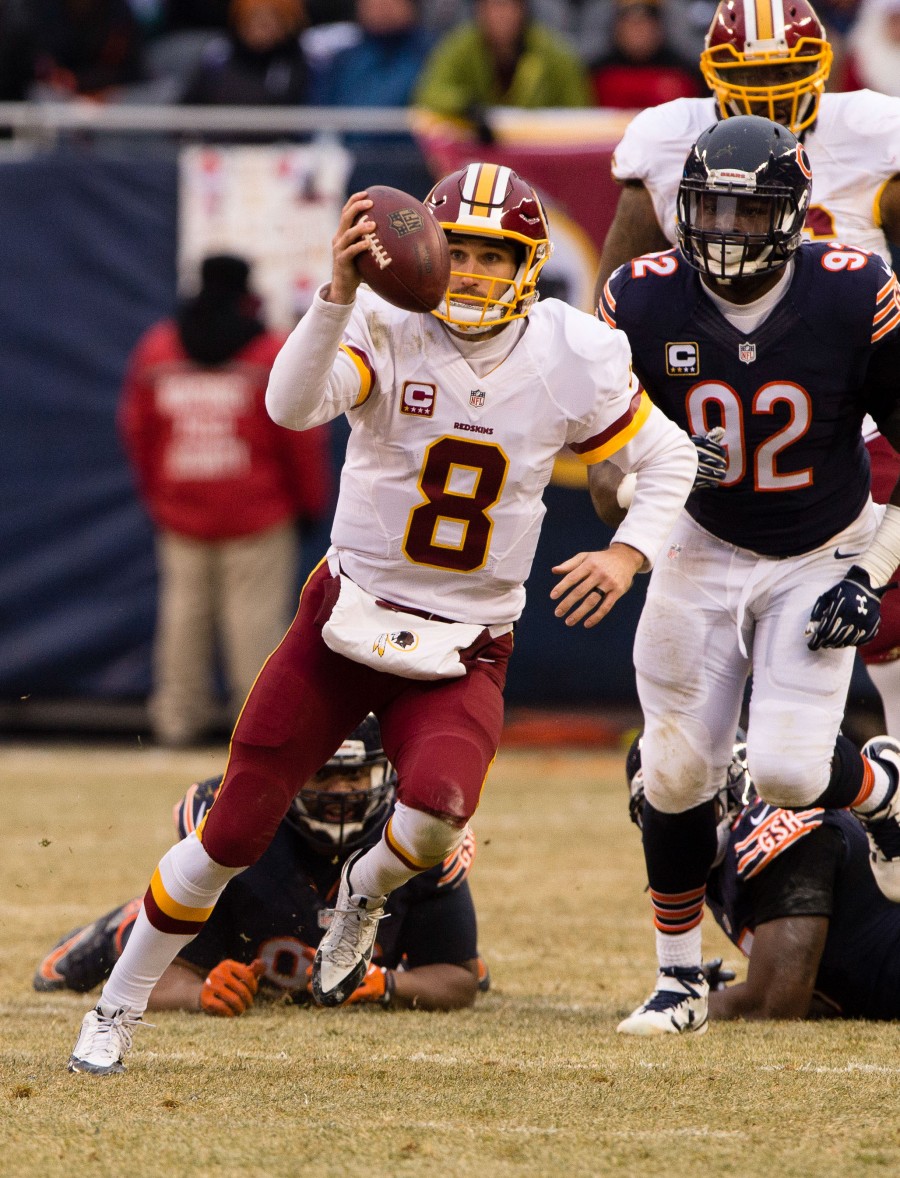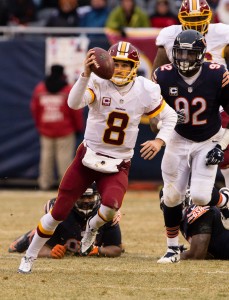 the best quarterback to reach free agency in recent history and he'll become the highest-paid player of all-time – at least, for some period of time – in mid-March. Who will make history with Cousins? That's anyone's guess right now. The Browns have more cap room than any other team, but a recent report from Adam Schefter of ESPN.com listed the Broncos, Cardinals, Jets, and Vikings as the final suitors for Cousins. Of those four, the Jets have the most money to work with, but they're concerned about the Vikings winning out and Cousins' desire to win could point him in another direction. If the Broncos and Cardinals want in on the Cousins sweepstakes, they'll have to get creative with the books.
Drew Brees is included here, but by his own admission, he'll be re-signing with the Saints rather than testing the open waters of free agency. Unless the Saints lowball their franchise QB, it's hard to see him leaving New Orleans.
Case Keenum put together a tremendous season for the Vikings, but he doesn't have a history of success beyond 2017. There will be plenty of interest in Keenum, but only after QB-needy teams strike out on Cousins. The incumbent Vikings could re-sign Keenum, but right now, it seems like they are intent on exploring the Cousins waters first.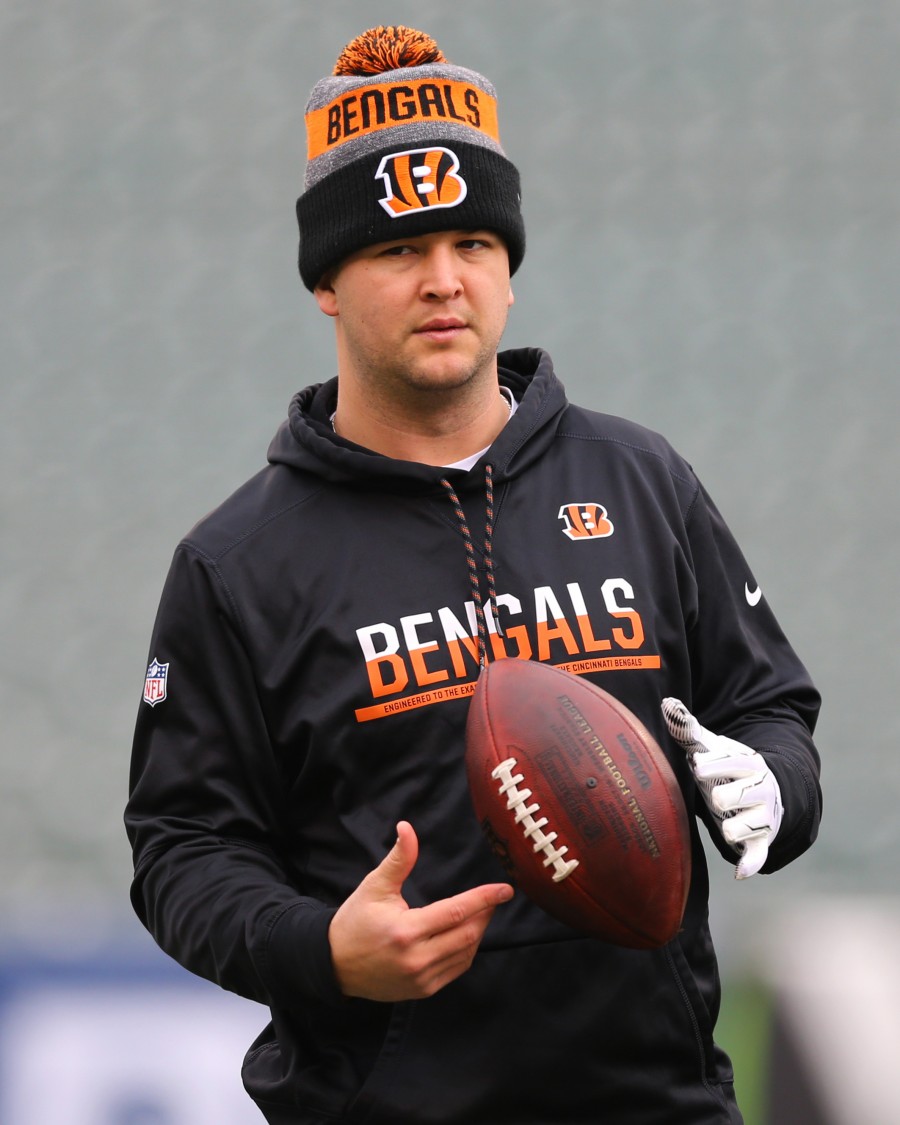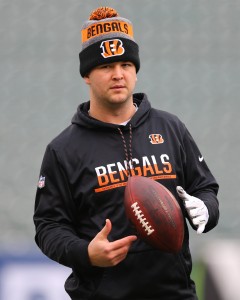 There isn't a ton of footage on A.J. McCarron, which made his placement on this list awfully tricky. We know this much: McCarron did well in place of Dalton in the home stretch of the 2015 season and his former offensive coordinator Hue Jackson was salivating at the chance of landing him before the Browns bungled the trade with the Bengals. McCarron's relative youth is a plus (he won't turn 28 until September) and his lack of experience can be looked at as a positive. Unlike some of the other names on this list, he hasn't run up his NFL odometer.
What will NFL teams make of Teddy Bridgewater and Sam Bradford this offseason? Not long ago, both seemed like quality starting options. However, there are serious injury questions about both players and any team signing them will either look to backstop them with another decent option or ask them to come onboard as a QB2. With that in mind, one has to wonder if Bradford would consider retirement if asked to hold the clipboard for another signal caller. Bradford has earned upwards of $110MM over the years in the NFL, so it's safe to say that he has enough money in the bank to call it quits if he wants. For now, he's intent on playing.
Colin Kaepernick's placement on this list is sure to draw some strong reactions from his fans and detractors alike. Looking purely at his football ability, there's no question that he belongs on someone's roster. At minimum, Kaepernick profiles as a high-end backup, even after a year out of the game.
Quarterbacks coaches have long believed that Mike Glennon is capable of great things, due in part to his height. At 6'7″, he can see over any defensive line, but he hasn't done much on the field to prove that he is a quality Week 1 starting option. Josh McCown, who is a decade his senior, edges him here for his surprisingly strong performance in 2017 at the helm of a weak Jets offense.
Running back:
We're in the illegal tampering period which, frankly, is just as active as the legal tampering period. Already, Dion Lewis is attracting attention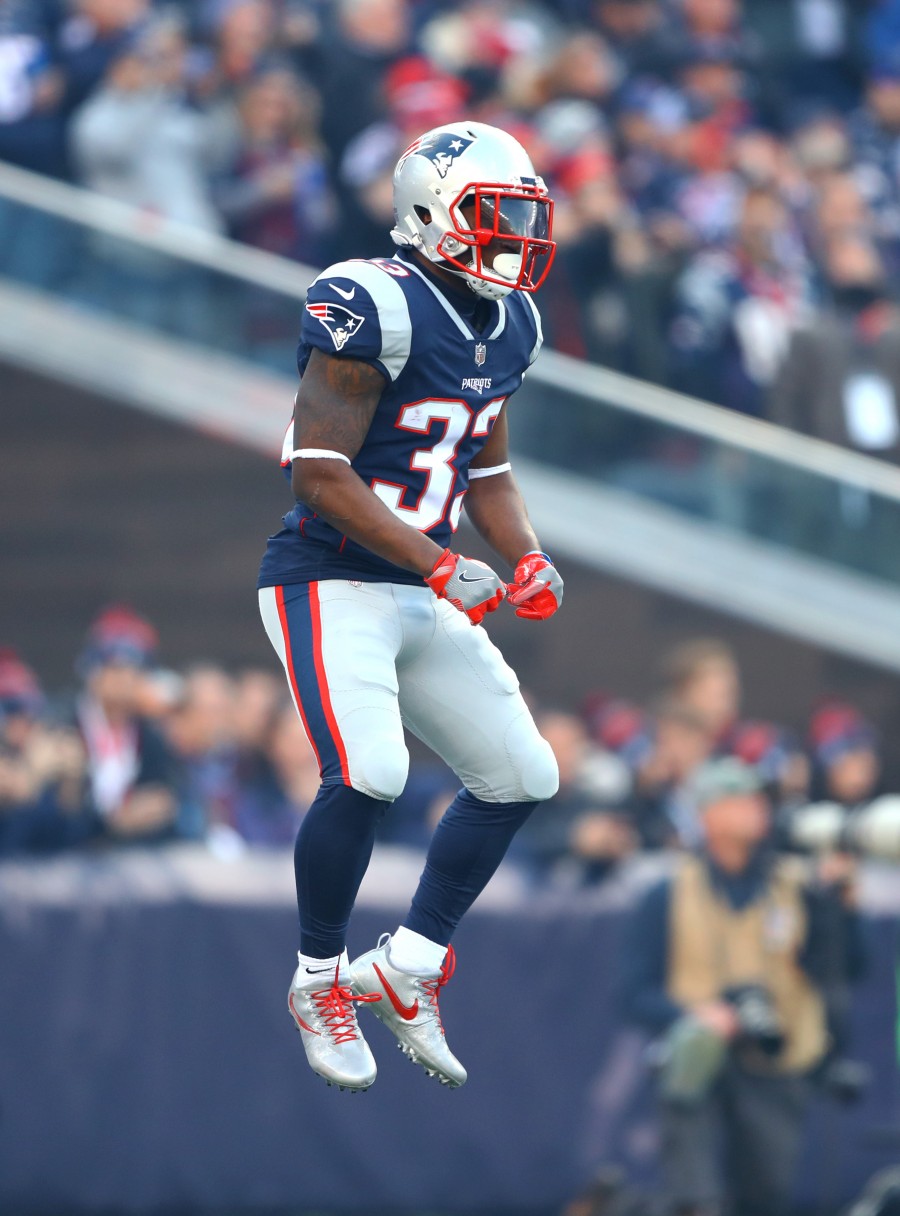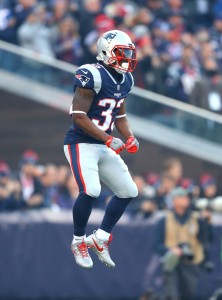 from a number of teams and it's speculated (wink wink) that the Jets, Texans, 49ers, Raiders, and Colts will have interest in him when things get underway next week. Le'Veon Bell has a franchise tag coming his way, so Lewis stands as the most attractive RB option out there.
Carlos Hyde didn't have the kind of platform year he was hoping for, but he's still just 26 and could headline a running back by committee group.
Jerick McKinnon's placement on this list figures to be controversial, but his athleticism and pass-catching ability can blow a game wide open. No one will bank on McKinnon to carry the ball 20 times per game, but he can be a real difference maker for a team out there.
Can Frank Gore outrun father time? History indicates that he can't and so does his 3.7 yards per carry average in 2017. You have to give credit where credit is due, however. Gore has been ruled out by many for years, but he has not missed a regular season game since the 2010 season. He's also just one year removed from cracking 1,000 yards and he almost did the same last year.
Wide receiver:
For most teams, Allen Robinson would be a franchise tag candidate. However, that may be too much of a luxury for the cash-strapped Jaguars.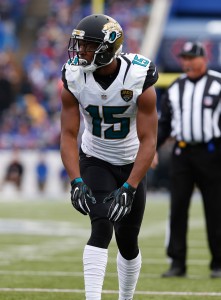 He presents a fascinating free agent case. Robinson missed all but three snaps of the 2017 season after suffering a torn ACL, but he's the most talented wide receiver on the board in the eyes of many. His 2015 season – 80 catches, 1,400 yards, and a league-leading 14 touchdowns – makes GMs drool. His quieter year in 2016 (73 catches, 883 yards, and six touchdowns) is less worthy of salivation. His 2017 season, of course, was a lost cause. For all the question marks, you can expect Robinson to see more dollars than any other free agent WR this year, particularly since Jarvis Landry has been held back by the tag.
Some in the football world may prefer Sammy Watkins for his big-play ability, but his down contract year amidst a capable offense is cause for concern. His injury history doesn't do him any favors either. No matter your feelings on Watkins, there's no debating that this year's WR market has a top tier comprised of just two players – Watkins and Robinson. With few quality receivers out there, they'll both get paid.
Marqise Lee represents a much less sexy option (speaking in football terms, of course), but he had the most receptions of any Jaguars receiver in 2017 (56) and finished second in receiving yards (702). Teams looking for a quality WR2 in free agency could do a lot worse than Lee and he'll be far cheaper than the two-man top tier.
Danny Amendola hauled in 61 receptions for 659 yards and two touchdowns in the regular season and continued his strong play in the playoffs. However, teams will wonder if he can thrive in his age-33 season while playing outside of the Patriots' offense. It's also quite possible that he never tests the market as his stated preference is to remain in New England.
After that, you'll notice a pretty significant drop off. That's because this year's WR class isn't all that deep. Terrelle Pryor had to settle for a one-year prove-it contract last year and, to put it mildly, he did not prove it. Paul Richardson caught 44 passes for 703 yards and six touchdowns in 2017, but that marked his first NFL season of real note.
Tight end:
Trey Burton spent most of the year behind Zach Ertz on the Eagles' depth chart, but he emerged late in the season and set himself up nicely for free agency. Given his age and potential, there's no question that he is the belle of the ball at tight end.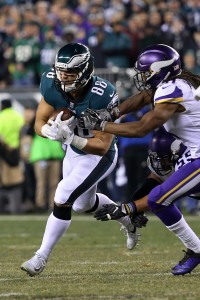 The rest of the tight end crop is not nearly as inspiring. Jimmy Graham has enjoyed back-to-back Pro Bowl seasons with the Seahawks, but he'll turn 32 in November and he's no longer the monster playmaker that he was in New Orleans. He had ten touchdowns in 2017, but his 9.1 yards per reception average is a career low.
Odds are, you have Tyler Eifert ranked over Austin Seferian-Jenkins given the fact that Eifert has played just ten games over the last two years. ASJ, meanwhile, rebounded from personal issues to post a 50-catch season for the Jets. Personally, I'm picking Eifert based on upside. Hopefully, we can still be friends.
Virgil Green, Darren Fells, and Lee Smith aren't exactly fantasy football superstars, but they are quality blocking tight ends that will draw more dollars than expected.
With some uninspiring names towards the backend of the list, you may be wondering where former Ravens notable Crockett Gillmore is on this list. Gillmore is transitioning to the offensive line, so he did not warrant consideration here.
Fullback:
Jon Gruden may go eagerly shopping for fullbacks, but they're not nearly as popular as they once were.
Offensive tackle:
Offensive line play is down across the board and evaluators around the league have been openly complaining about an increasing dearth of tackles coming out of college. That makes for a generally uninspiring lot in free agency.
Nate Solder battled through injuries in 2017 and did not miss a game. He's no longer a top-flight option, but he graded out as Pro Football Focus' No. 32 tackle last year, meaning that he's starter quality at left tackle. You'll notice that three of the top five tackles on this list are Patriots. There's little chance that the Pats let all three get away.
Justin Pugh offers the ability to play both guard and right tackle, though he might not do either one particularly well.
Interior offensive line (guard/center):
Andrew Norwell is the undisputed king of this category after netting an All-Pro selection in 2017. Norwell also earned a career-high 88.8 overall score from Pro Football Focus, which positioned him third in the entire NFL amongst guards. A team with greater means than the Panthers might have used the franchise tag on him. Fortunately for rival teams in need of interior help (such as the Giants), they won't cuff him with the one-year placeholder.
Follow @PFRumors