Jerick McKinnon's renewed run of health enabled the veteran running back to play a key role for the Chiefs during their playoff run. Not long after the perennial AFC West champions lost Darrel Williams in free agency, they are bringing back McKinnon.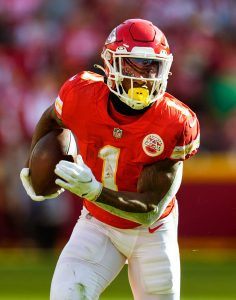 The eight-year veteran is re-signing with Kansas City, Jeremy Fowler of ESPN.com tweets. The sides agreed on a one-year deal Monday. This news comes days before the Chiefs convene for their mandatory minicamp.
[RELATED: Cardinals, Darrel Williams Agree To Deal]
Although McKinnon famously missed all of the 2018 and '19 seasons, after he had signed a high-end running back deal with the 49ers, he has been healthy for most of the past two. The Chiefs, added McKinnon on a one-year, veteran-minimum deal in 2021, only gave him 25 touches during the regular season. But they leaned on the backup in the playoffs, dialing up 48 touches in their three-game January slate.
McKinnon totaled 315 scrimmage yards and a touchdown in games against the Steelers, Bills and Bengals, seeing more time in the backfield than starter Clyde Edwards-Helaire did, though the first-stringer was returning from another injury — one that kept him out of the team's wild-card game.
Kansas City has Edwards-Helaire back, and the team reached an agreement with former Tampa Bay back Ronald Jones months ago. The Chiefs used a seventh-round pick on running back Isiah Pacheco, signed two UDFA backs and have ERFA Derrick Gore on their roster. McKinnon, who turned 30 in May, may be set for another niche role in Andy Reid's offense.
The 49ers gave the former college quarterback and ex-Adrian Peterson backup a four-year, $30MM deal in 2018. At the time, that doubled as a top-five running back contract. But an ACL tear that year sidelined McKinnon for two seasons, the second coming after the injury did not properly heal. After a 2020 restructure, McKinnon returned to action and played all 16 San Francisco games. He totaled 572 scrimmage yards and scored six touchdowns for an otherwise injury-ransacked 49ers backfield.
While McKinnon did miss four regular-season games with the Chiefs, due to a late-season hamstring injury, his postseason availability proved key for a team that saw Edwards-Helaire miss time with separate maladies. The Chiefs keeping him around as additional CEH insurance makes sense.