MAY 2: The Chiefs' third McKinnon contract is now official, Field Yates of ESPN.com tweets. While it will be interesting to see the terms of this new contract, McKinnon is set to play an age-32 season in 2023.
MAY 1: A third Jerick McKinnon season in Kansas City will be on tap. After making a tremendous impact in the Chiefs' passing game last season, the veteran running back is in their 2023 plans.
GM Brett Veach had said the team planned on regrouping with the veteran back after the draft, NFL.com's James Palmer reports (via Twitter) McKinnon indeed plans to re-sign with the Chiefs. McKinnon intends to ink another Chiefs contract on Tuesday. This pact is set to be finalized a day before McKinnon's 32nd birthday.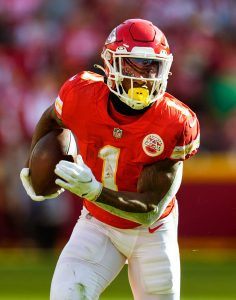 This continues a remarkable turnaround for the former Adrian Peterson Vikings backup. Once on the verge of seeing a severe knee injury end his career, McKinnon has become a valuable contributor for the Chiefs. The former college quarterback did not miss a game last year and enjoyed the best receiving season of his career, catching 56 passes for 512 yards and nine touchdowns. Not only catching two more touchdown passes in a season than any other back in Chiefs history, McKinnon also set a post-merger NFL running back record by catching a TD pass in six straight games.
The 49ers gave McKinnon a four-year, $30MM deal in 2018; Kyle Shanahan saw the ex-Vikings third-round pick as a key passing-game piece. An ACL tear just before the 2018 season led to McKinnon missing all of the 2018 and '19 campaigns. The 49ers reached a reworked deal with the resilient back in 2020, and during a San Francisco injury avalanche, McKinnon played all 16 games that season. That set the table for McKinnon's Chiefs run.
Kansas City reached one-year deals with McKinnon in 2021 and '22. Both have been veteran-minimum accords. McKinnon played last season for $1.27MM. It will be interesting to see if the Chiefs reward McKinnon for his contributions, or if the grim market for veteran backs leads to another bottom-level agreement. While McKinnon played a vital role in Kansas City's latest Super Bowl-winning season, a number of productive running backs settled for one-year deals south of $3MM. D'Onta Foreman, Damien Harris and Devin Singletary joined ex-McKinnon 49ers teammates Raheem Mostert and Jeff Wilson in signing one-year contracts at $3MM or less.
McKinnon has helped the Chiefs recover from their Clyde Edwards-Helaire draft mistake. The Chiefs, who had used Damien Williams as their primary post-Kareem Hunt solution during their 2019 Super Bowl-winning season, turned to Edwards-Helaire after the veteran's COVID-19 opt-out. The Chiefs released Williams in 2021 and ended up deploying McKinnon as their primary playoff back. McKinnon teamed with 2022 seventh-round pick Isiah Pacheco as the Chiefs' stretch-run options; CEH was a Super Bowl LVII healthy scratch. McKinnon played 30 offensive snaps in the Super Bowl.
While Edwards-Helaire's first-round contract runs through 2023, this latest McKinnon agreement looks set to greenlight more of the Pacheco-McKinnon tandem as the Chiefs begin their title defense.