Veteran NFL safety Ha'Sean "Ha Ha" Clinton-Dix reportedly joined his former team in order to retire today, according to Aaron Wilson of KPRC2. Clinton-Dix has effectively been out of the league for over a year now and has decided to hang up his cleats at 30 years old.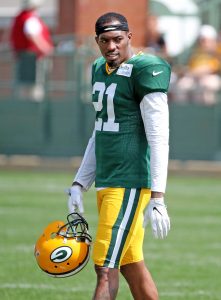 Clinton-Dix was a first-round draft pick after electing to forgo his remaining eligibility at Alabama back in 2014. In the draft process, Clinton-Dix was often compared against Louisville safety Calvin Pryor for the title of the draft's top safety prospect. After the Packers did not re-sign free safety M.D. Jennings, the team selected Clinton-Dix to come in and compete with then-second-year safety Micah Hyde for the starting spot at free safety alongside strong safety Morgan Burnett.
Hyde would win the starting job to start the season, but Clinton-Dix would receive plenty of playing time to start his rookie season as a fifth defensive back. It didn't take long for Clinton-Dix to push Hyde for the starting role, though, earning his first start only seven weeks into the year. Clinton-Dix would refuse to relinquish the starting job from then on, starting every game for whatever team he would play on after that all the way through the 2019 season.
Clinton-Dix played nearly all of the remainder of his rookie contract as the Packers' starting safety in tandem with Burnett. As a Packer, Clinton-Dix would haul in 14 interceptions, including a 2016 Pro Bowl season that would see him intercept five passes. He also proved himself to be a physical safety for Green Bay's defense, leading the team in 2015 with 100 total tackles.
After exercising his fifth-year option, the Packers would trade Clinton-Dix halfway through his fifth year in the league to Washington. After playing out the remainder of his rookie deal in DC, Clinton-Dix signed a one-year contract with the Bears, with whom he would nab two more interceptions as a full-time starter. These games in Chicago would end up being the last starts, and the last significant playing time, of his career.
Clinton-Dix reunited with former Packers head coach Mike McCarthy in Dallas and was expected to take over at safety for the Cowboys after the loss of Jeff Heath. Unfortunately for Clinton-Dix, he was soon passed up by Darian Thompson on the depth chart and released just prior to the regular season. After sitting out the 2020 season following his release from the Cowboys, Clinton-Dix would spend a couple weeks of the offseason in San Francisco before being released prior to the 2021 season. He would be signed to the Raiders practice squad. He would appear in two games for Las Vegas off of the practice squad, playing only on special teams. Clinton-Dix was released in December and spent the short remainder of the season on Denver's practice squad.
Over 13 months after making his last appearance on an NFL field, Clinton-Dix announced his retirement today, signing a one-day contract to end his career in his original NFL home of Green Bay.