DECEMBER 13: Shanahan expects Samuel to miss around three weeks, Eric Branch of the San Francisco Chronicle tweets. Considering the trouble the 49ers have had with MCL sprains, a possible Week 18 return would represent a big victory for the team. The 49ers face the Seahawks, Commanders and Raiders over the next three weeks. They close the regular season with a home game against the Cardinals.
DECEMBER 12: Deebo Samuel will miss time for the 49ers, and an update Monday indicated the 2021 All-Pro is dealing with multiple injuries. But the team is expecting him to come back before the regular season ends.
The recently extended wideout/running back moonlighter suffered an MCL sprain and a sprained ankle, Matt Barrows of The Athletic tweets. While the 49ers have encountered extensive trouble with MCL sprains this season, it appears Samuel has run into a fairly mild one.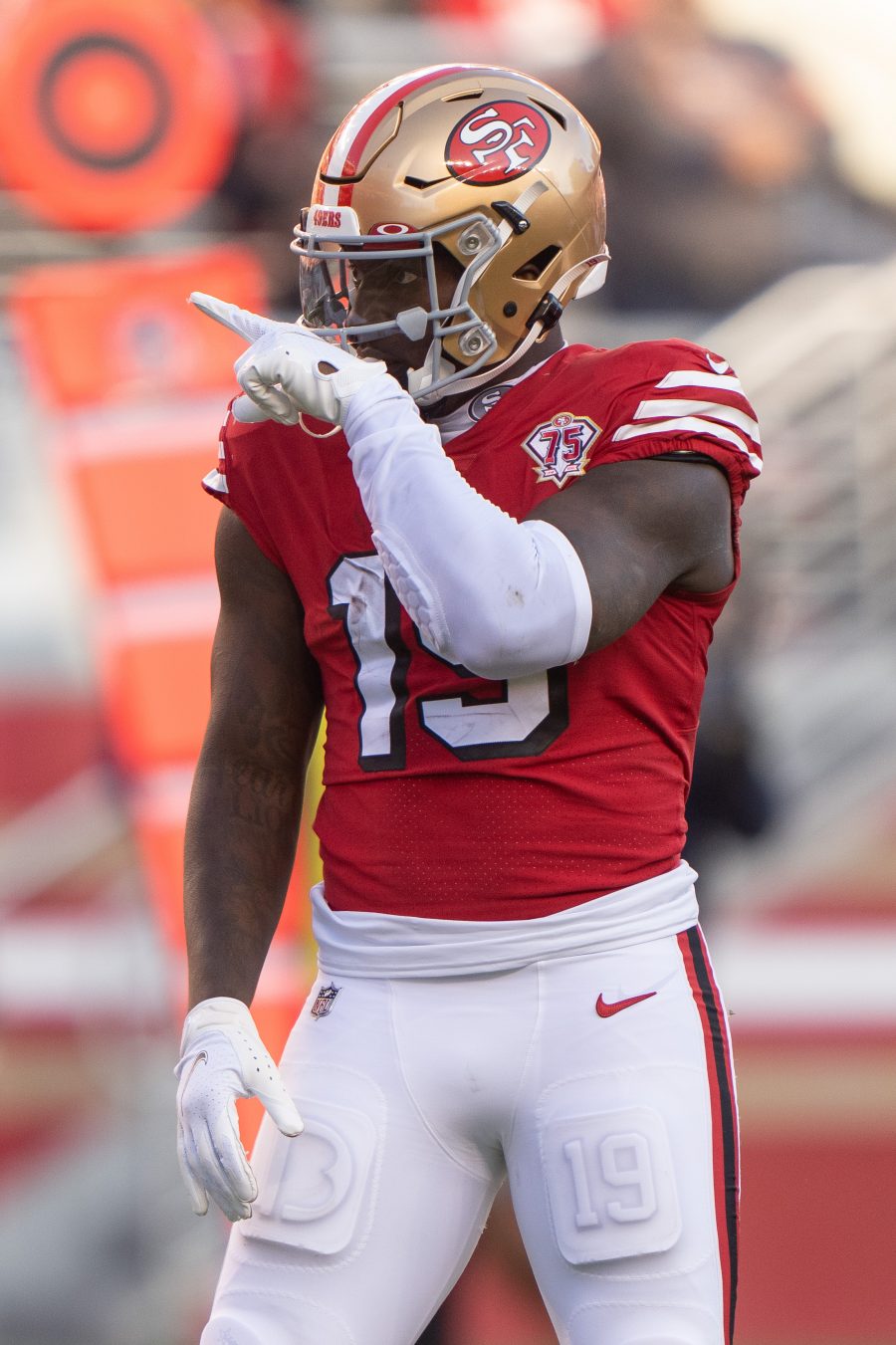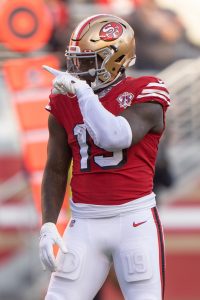 Kyle Shanahan mentioned Sunday this could be a high ankle sprain, but reports Monday have left the word "high" out of the equation. High ankle sprains can linger for several weeks, and the 49ers have seen MCL sprains sideline multiple players for more than a month this year — Elijah Mitchell, Azeez Al-Shaair, Colton McKivitz. Samuel suffering both an MCL sprain and a high ankle issue would seemingly threaten his playoff availability, so it certainly represents good news a regular-season return is expected.
Samuel has a history of significant injuries, having suffered a foot fracture during the 2020 offseason and later that year running into multiple bouts of hamstring trouble. While 2020 effectively turned into a lost season for Samuel (and other 49ers), he bounced back to play 19 games last season. Samuel, 26, zoomed to All-Pro status in 2021, providing tremendous help to the 49ers' backfield in addition to his receiving duties. After a 59-carry 2021, the former second-round pick has logged 41 carries this year. He suffered the injury on a handoff up the middle.
The 49ers placed a considerable bet on Samuel this offseason, inking him to a three-year extension worth $71.55MM. This situation transformed in the team's favor, after Samuel requested an offseason trade. He returned to the team and is pairing with fellow stars George Kittle and Christian McCaffrey in a rare three-All-Pro skill-position armada. Kittle and McCaffrey have extensive injury pasts as well, giving the 49ers risks to manage weekly.
San Francisco has lost Samuel and Jimmy Garoppolo over its past two games. The team is not expected to place Garoppolo on IR, due to the faint hope the veteran passer can return late in the playoffs and its IR situation having become complicated. Samuel should not be expected to land on IR, either, given the prospect he could return within the next month. The 49ers (9-4) are now up two games on the Seahawks in the NFC West. They already routed the surprising contenders in Week 2, when Garoppolo replaced an injured Trey Lance. A win Thursday would effectively lock up the division for San Francisco.
The 49ers also received good news on Brock Purdy, who battled through an oblique injury in Week 14. They are calling the rookie quarterback "day to day." The team did lose defensive lineman Kevin Givens to an MCL sprain; Shahanan said the fourth-year contributor will be out a few weeks. Givens has worked as a starter in place of Javon Kinlaw, who remains on IR. The team has used the former as an 11-game starter this season.
An ex-UDFA, Givens has remained in the lineup since Arik Armstead's recent return. The 49ers are already down D-lineman Hassan Ridgeway; this Givens issue will further thin out their D-line interior. The team, which also lost veteran backup cornerback and special-teamer Dontae Johnson to an ACL tear, has maintained its No. 1 defensive ranking despite a spate of injuries. T.Y. McGill remains in the picture at D-tackle, but given the issues affecting Ridgeway and Givens, it should be expected the 49ers will make a move here soon.