In an 11th-hour twist, the 49ers and Jimmy Garoppolo are planning to continue their partnership. The parties agreed to a restructured contract that is expected to keep the two-time NFC championship game starter in San Francisco, Adam Schefter of ESPN.com tweets.
This one-year deal includes a no-trade clause and a no-franchise tag clause, Schefter adds. Garoppolo will remain a 2023 free agent-to-be. This adjusted deal will be worth $6.5MM in fully guaranteed base salary, per Schefter, who adds playing-time bonuses could add another $9MM to the accord (Twitter link). The 49ers, who had given Garoppolo's camp permission to negotiate his contract with other teams months ago, had been working with the veteran passer since last week on this pay cut, Schefter tweets.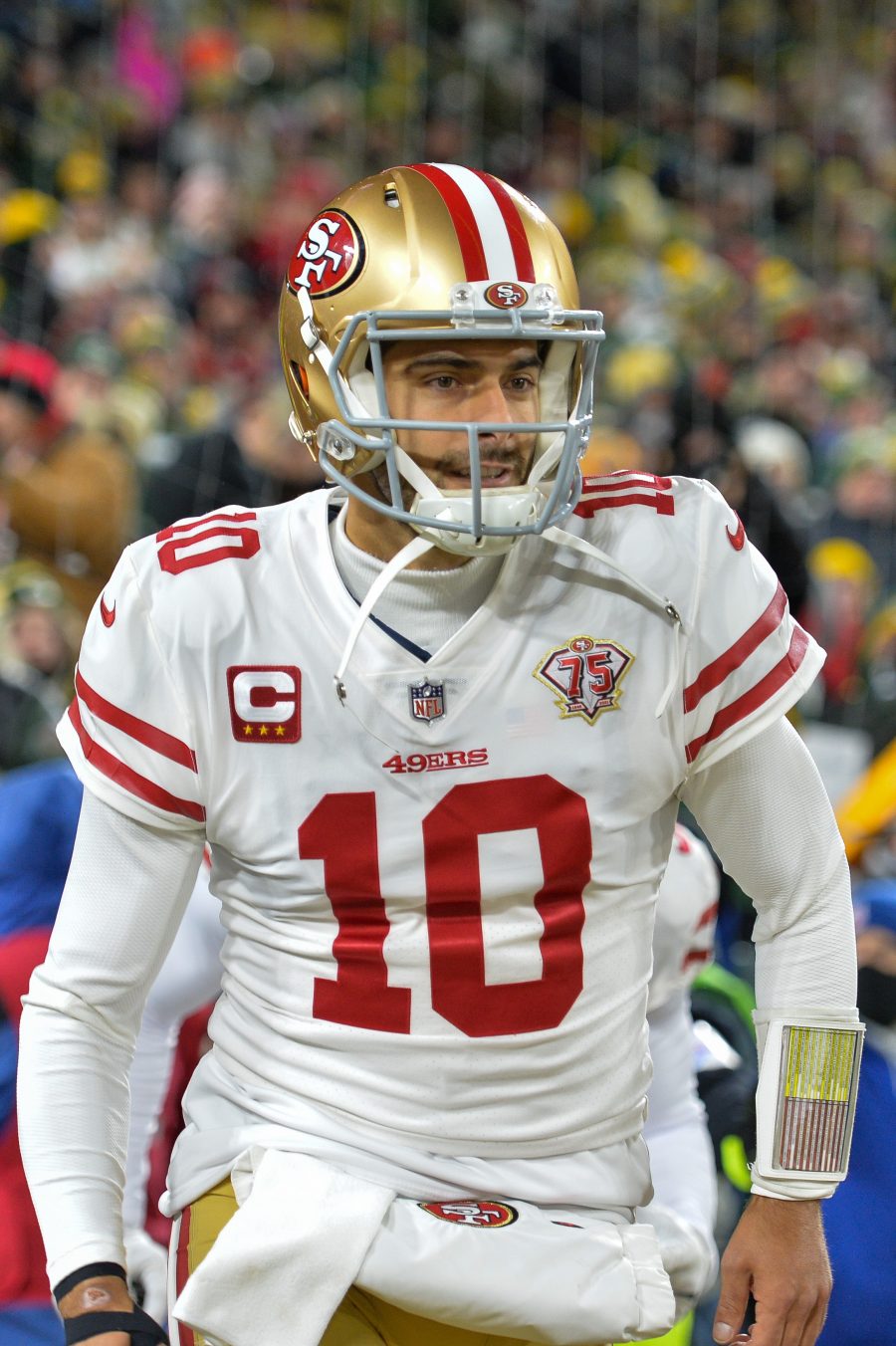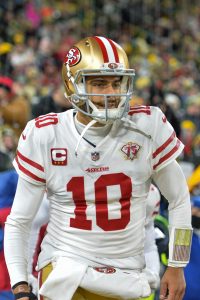 Monday's compromise will both provide the 49ers with Trey Lance insurance and ensure Garoppolo collects a decent 2022 sum. While this is nowhere close to the $24.2MM base salary his 2018 extension was set to pay him, keeping that number on the books was never in the cards for the 49ers. A Garoppolo release may well have led to a payment shy of this $6.5MM salary as well. This new contract also includes $500K in roster bonuses. In total, Garoppolo's 2022 compensation package maxes out at $15.45MM, Albert Breer of SI.com tweets. The path toward cashing in all those incentives is likely tied to Lance.
For the 49ers' payroll, Garoppolo will now come in well below the $26.95MM cap figure to which he was previously tethered. The ninth-year quarterback is now expected to count around $8.5MM on San Francisco's cap sheet, Tom Pelissero of NFL.com tweets. This is an interesting solution for the 49ers, who have moved up beyond $20MM in cap space after entering Monday ranking 32nd in available funds.
Garoppolo's base salary would have become guaranteed just before the 49ers' Week 1 game. The 49ers were never going to allow that guarantee to vest, but they had tried to trade their four-plus-year starter throughout the offseason. Garoppolo was most closely linked to the Seahawks (in the event of a 49ers release) and Browns as a Deshaun Watson stopgap. Cleveland is sticking with Jacoby Brissett, while Seattle's Geno Smith path is for real now. It is possible those teams could circle back to Garoppolo before the trade deadline, but he would now have to approve any trade. Garoppolo had a no-trade clause last year, but his contract did not previously include one for 2022.
The fifth-year 49ers passer underwent shoulder surgery in March, sidetracking his trade market, but is believed to have recovered. Garoppolo, 30, has been throwing for weeks now. He can now resume practicing with his teammates. How this affects Lance, whom the 49ers have repeatedly endorsed as their 2022 starter, will be fascinating. Lance's QB1 predecessor had interest in being released, per Chris Mortensen, but circled back to San Francisco due to this being his best chance for success (Twitter link).
Although the 49ers traded two future first-round picks to move up for the North Dakota State prospect last year, Lance has thrown fewer than 400 passes in games since his senior year of high school. After dominating for the Division I-FCS superpower as a redshirt freshman in 2019, the COVID-19 pandemic nixed the 2020 FCS season. Lance played in the Bison's one 2020 game and declared for the 2021 draft. Garoppolo suffered a calf injury during the first half of last season, bringing in Lance for a spot start, but Kyle Shanahan reinstalled his veteran starter. Lance did not threaten Garoppolo's status the rest of the way, and the 49ers rallied to their second NFC title game in three seasons. Lance spent his rookie year battling a finger injury, but he has recovered and made strides during his second pro offseason.
While Garoppolo has been frequently maligned during his Bay Area tenure, he is well-liked by his teammates and has posted top-15 QBR figures in his past two healthy seasons (2019, 2021). Last season was not exactly a healthy Garoppolo season; the former Patriots backup ran into a thumb issue late in the season but played through it. Lance was acquired to be an upgrade, however, and likely will remain the team's preferred 2022 option. But instead of Garoppolo trying his hand with the Seahawks or Browns, he will remain a 49er for the time being.
This could also buy the 49ers more time with Garoppolo, with his salary more manageable as a trade chip now. If Lance impresses early, Garoppolo would reside as a trade attraction for a team in need. An early-season injury affecting a team that does not currently possess a QB need would increase San Francisco's bargaining position as well. The no-trade clause will also protect Garoppolo from being sent to an undesired location, helping explain the decision to dramatically reduce his salary.
Follow @PFRumors