Morgan Burnett did not play last season, and the veteran safety will not opt to make a comeback in 2021. Burnett announced his retirement (via Instagram) on Monday.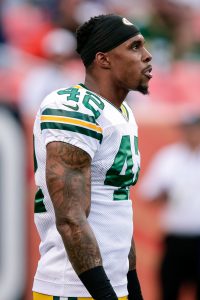 The former Packers third-round pick played 10 NFL seasons — with Green Bay, Pittsburgh and Cleveland — and started 112 games out of the 121 he played. The Packers traded up with the Eagles to select Burnett in 2010 and deployed him as a first-string safety for seven-plus seasons.
While never a Pro Bowler, Burnett led two playoff-bound Packers teams in tackles, with 123 in 2012 and 130 in 2014, and totaled more than 90 in three other Green Bay seasons. The Georgia Tech product intercepted 10 passes and forced eight fumbles in his NFL career.
Although Burnett's rookie season doubled as Green Bay's fourth Super Bowl-winning campaign, he was on IR during those playoffs. Burnett, however, started in 11 postseason games with the Packers. He intercepted two playoff passes.
The Packers gave Burnett a four-year, $24.75MM extension in 2013. He played out that contract. Burnett moved on in unrestricted free agency in 2018, signing with the Steelers. After a year in Pittsburgh, Burnett spent his final season in Cleveland. Injuries intervened during Burnett's Steelers and Browns stays, and the Steelers did not use him as a full-time starter. While the Browns gave Burnett a two-year contract and did use him as a full-time first-stringer, they released him after he missed eight games due to injury. Despite reaching the 10-season threshold, Burnett was just 30 when he played his final NFL game.