T.J. Ward caught on with the Cardinals' practice squad for a bit last season, doing so after being out of football for a lengthy stretch. The former Pro Bowl safety will not attempt to play in 2021. Ward announced his retirement Wednesday morning, Troy Renck of Denver7 reports.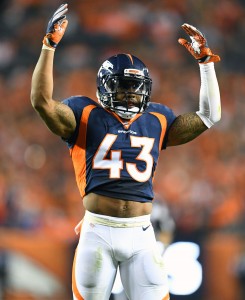 Best known for being part of the Broncos' No Fly Zone secondary, which played a major role in the franchise's third Super Bowl championship, Ward was a regular for eight NFL seasons. He also spent time with the Browns and Buccaneers, last suiting up for a regular-season game in 2017.
Ward, 34, will wrap his career as a two-time Pro Bowler. The Browns selected Ward in the 2010 second round and used him as a starter throughout his four-year tenure in Cleveland. In 2014, Ward signed a four-year, $22.5MM contract to join the Broncos. This move elevated Ward's profile and bolstered a Broncos defense that was coming off a rough outing in Super Bowl XLVIII.
The ex-Oregon Duck spent three seasons with the Broncos, joining DeMarcus Ware, Aqib Talib and Emmanuel Sanders as part of the franchise's quality 2014 free agent class. An intimidating presence on the back line of a dominant Broncos secondary, Ward joined Talib, Chris Harris, Darian Stewart and Bradley Roby in helping the Broncos rank first in pass defense DVOA in 2015 and '16.
Ward intercepted a pass and recovered a fumble in Super Bowl 50, playing a pivotal part in Denver's upset victory, and continued as a starter in 2016. The Broncos gave Stewart a long-term extension that season and used two 2016 draft picks on safeties — Justin Simmons and Will Parks. Simmons ended up replacing Ward in 2017. The Broncos released Ward ahead of that season, leading to his one-year, $4MM Bucs deal.
The hard-hitting safety finished his career with two 100-plus-tackle seasons — both with Cleveland — and 29 tackles for loss. He added 10 forced fumbles and two defensive touchdowns — both of which came in 2013, when he earned second-team All-Pro recognition.