Roddy White is still waiting on a phone call from an NFL team, but that doesn't mean that he's desperate for an offer. The wide receiver says that he only wants to play for a team that can win the Super Bowl in 2016.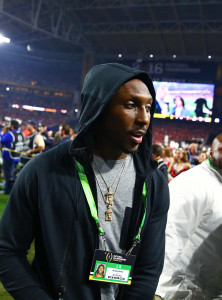 "When my agent and I went down the list and I saw the teams that really needed wide receivers, I was like, 'Wow, I really don't want to go there,'"White told Jeff Schultz of The Atlanta Journal-Constitution. "I knew I couldn't win with any of those teams. At this point of my career, I don't want to be dragging my feet in Week 13 just to have an opportunity to be 4-10 next week."
Of course, everyone's definition of a contending team varies. For White, he says that there are "maybe six teams" that he would consider signing with for this season. If one of those six teams don't come calling, he says that he is prepared to retire. He's also not planning on dragging things out for too long.
"I'll let it go into the season, maybe Week 4 or 5," he said. "If it doesn't happen, I'll be putting my cleats on a power line, just like Marshawn Lynch."
White, 34, made four Pro Bowls and was a first-team All-Pro in 2010, when he caught a career-high 110 passes for 1,389 yards and 10 touchdowns. In early March, the Falcons bid farewell to White and, soon after, his agent pointed the finger at offensive coordinator Kyle Shanahan.
"There is one reason Roddy is no longer with the Falcons and it is Kyle Shanahan," rep Jonathan Feinsod said. "Kyle forced the Falcons to choose between him or Roddy."
Here at PFR, we listed White as an honorable mention when ranking the best players still available on the open market.
Photo courtesy of USA Today Sports Images.
Follow @PFRumors