It's late June and the Chargers have yet to sign Joey Bosa, the No. 3 overall pick in this year's draft. The two sides were said to be haggling over offset language, though agent Todd France tells Alex Marvez of Sirius XM that the negotiations are more complicated than that.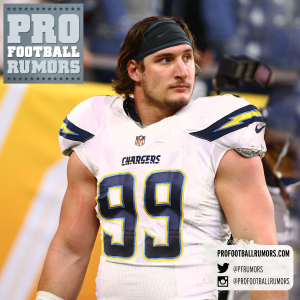 [RELATED: Why The Chargers Could Sign Eugene Monroe]
"You are a little more boxed in from the pure dollar standpoint, total dollars, but there are a lot of moving parts," he said (transcript via NFL.com). "Language-wise, there's different things you can look at. And, then, obviously, how you structure it, especially in those top 15, 16, 17, 18, 19 picks in the first round, whether those bonuses in the second and third, fourth year — those training-camp roster bonuses — do you not want those? What's the cash flow? What's the deferral? Those types of things."
Meanwhile, Chargers' president of football operations John Spanos claims that offset language is the main hangup in getting a deal formally signed.
"I would say that there are a lot of things in our business that come with the territory and negotiating contracts are one of them. That's part of the business," he told 1090 in San Diego. "Was it disappointing to have 89 players instead of 90 in for camp? Sure. But these things tend to work themselves out and the good thing was, when Joey Bosa was here he looks great."
With no offset language, the Chargers would pay Bosa the balance of his four-year guaranteed contract even if they release him midway through the deal. Then, theoretically, Bosa could collect two salaries upon signing elsewhere. With offset language in place, the Chargers would be off the hook for Bosa's salary with his new team, paying him only the difference. The Bolts see offset language as the biggest barrier to a deal, but Bosa's agent apparently has other qualms outside of that.
Before acquiring the No. 2 overall pick in this year's draft, the Eagles reached out to Carson Wentz's camp to confirm that he would agree to offsets. However, the Rams do not believe in offset language and, subsequently, they did not include offsets in their deal with No. 1 overall pick Jared Goff. I would imagine that the precedent set by the Rams in this year's draft has been brought up quite a bit from Bosa's side of the table.
Photo via Pro Football Rumors on Instagram.
Follow @PFRumors