SATURDAY, 8:55am: Not much of a surprise here, but the Eagles have official announced the signing.
FRIDAY, 12:27pm: The Eagles have signed No. 2 overall pick Carson Wentz, sources tell Ed Werder of ESPN.com (via Twitter). Wentz deal contains offsets for guaranteed money, according to Mike Florio of PFT (Twitter link). Wentz, Florio adds, told the Eagles he would agree to offsets before Philly traded up to No. 2 with the intention of drafting him.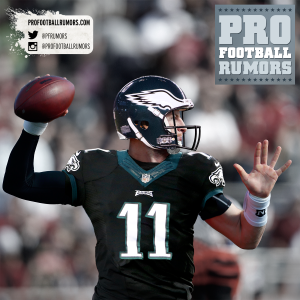 Last month, the Rams paid a king's ransom to trade up for the No. 1 pick, which raised the asking price for every team vying for the No. 2 pick. That didn't deter the Eagles, however, as they were locked in on Wentz. Philly shipped the No. 8 pick, a 2016 third-round pick, and a 2016 fourth-round pick, a 2017 first-round pick, and a 2018 second-round pick to the Browns for the No. 2 pick (Wentz) and a 2017 fourth-round choice.
Wentz and Cal's Jared Goff were considered the top two quarterbacks available in this year's class, and while Goff is thought to be bit more NFL-ready, Wentz might have the higher ceiling. Prior to the draft, PFR's Rob DiRe ranked Wentz as the No. 2 QB on the board, praising his size and mobility.
With the Eagles, Wentz should have plenty of time to develop with Sam Bradford serving as the starter. With Wentz in the fold, the Eagles have now signed all of their rookies in the 2016 class.
Follow @PFRumors