The road to the NFL hasn't always been easy for players coming out of the service academies for the Army, Navy, and Air Force. Now, things should be a little easier for those talented players going forward. Brent Briggeman of the Colorado Springs Gazette obtained an updated copy of the Department of Defense Pro Sports Policy, which now stipulates that players can serve in reserves, rather than active duty.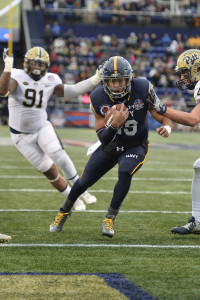 Graduates can now apply to serve on reserve status instead of active duty, though the Air Force says that they will be making those decisions on a case-by-case basis and one would assume the same applies for the Army and Navy. The new policy also requires a "secured contract or binding commitment" from a professional sports team, so only players who have legitimate pro prospects will be allowed to exercise this option. It remains to be seen whether this exception will be extended to players who are offered contracts from smaller professional football leagues, such as the Arena Football League and the CFL.
This year, an exception was made for versatile Navy prospect Keenan Reynolds after he was selected No. 182 overall by the Ravens. Reynolds – who can be used as a wide receiver, kick returner, or even a quarterback – was told that he would be allowed to defer his service obligation. Now, it sounds like the exception made for Reynolds can be made for other exceptional athletes down the line. In the long run, these rule changes could also give a major boost to both Army and Navy as they look to recruit top prospects.
Photo courtesy of USA Today Sports Images.
Follow @PFRumors