The Vikings' 2015 offensive line was, in a word, lackluster. Minnesota gave up 45 sacks, eighth-most in the league, and ranked 29th in adjusted sack rate. The unit was more successful in the run game, earning the No. 10 spot in Football Outsiders' rankings — but even FO admits that its offensive line metrics are heavily influenced by the quality of the team's running back, and Adrian Peterson certainly gave his front five a leg up.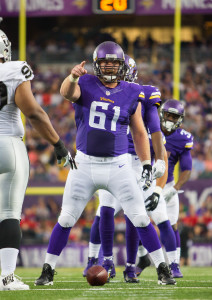 [RELATED: Minnesota Vikings depth chart]
But that poor overall performance overlooks the fact that the Vikings had several surprising contributors among their top five lineman. Mike Harris, thrust into a starting role for the first time in his career, played exceptionally well, helping lock down the right side while seeing action at guard after primarily playing tackle in past seasons. Joe Berger, a 34-year-old reserve who had started more than 10 games only once in his career, was even better, grading out as the second-best center in the NFL, according to Pro Football Focus.
Neither Harris nor Berger is projected to enter the upcoming season as a starter, however, as Minnesota's line will undergo a series of changes. Berger is likely to be usurped by John Sullivan, who missed the entire 2015 campaign after undergoing a lumbar microdiscectomy. Sullivan, 30, was a full-time starter for the Vikings from 2009-14, and was consistently viewed as one of the elite pivots in the league, ranking eighth in approximate value during that period.
Harris, meanwhile, will head back to the bench as Brandon Fusco moves from left to right guard, paving the way for free agent signee Alex Boone to take over on the left side. Fusco wasn't very effective last year, but he's been much more productive at right guard during his NFL stint, so perhaps the move back will do him good. Boone, meanwhile, is locked in as a starter after inking a four-year, $26.8MM deal in the offseason.
The Vikings didn't stop after adding Boone, though, and subsequently signed former Bengals tackle Andre Smith to a one-year pact. Minnesota now ranks first in offensive line spending among all NFL clubs, ahead of other team such as the Raiders, Eagles, and Dolphins. Here's a look at the top names on the Vikes' offensive line depth chart, sorted by 2016 cap figure: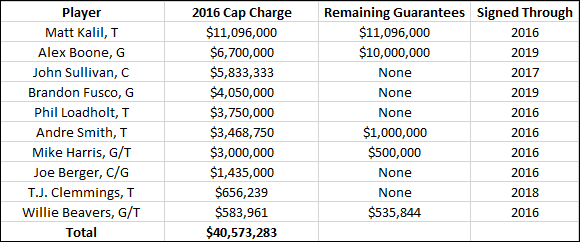 So with Boone, Sullivan, and Fusco manning the interior — and fending off competition from Berger and/or Harris — our attention turns to the outside, which is perhaps the most interesting subset of Minnesota's offensive line. Matt Kalil's struggles have been well-documented, and he's never returned to the heights he exhibited during his rookie season. The Vikings somewhat surprisingly exercised his 2016 fifth-year option, and his $11.096MM base salary for this year is now guaranteed.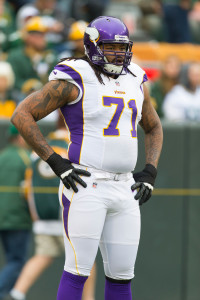 At right tackle, Smith, who is protected by a $1MM guarantee, will compete with longtime Viking Phil Loadholt. The 30-year-old Loadholt has been an elite option on the right side when healthy, but he missed the tail of end of the 2014 campaign with a torn pectoral, and was sidelined for the entire 2015 season after tearing his Achilles. As such, many observers — including Ben Goessling of ESPN.com — have given the edge to Smith in this position battle.
Loadholt reworked his contract earlier this year, reducing his base salary to $2MM while not adding any guarantees, in the hopes of "betting on himself." There's likely only room for either Loadholt or Smith on the roster, as neither offers much versatility, and given that Smith has that $1MM guarantee in his back pocket, he is likely the favorite. Loadholt and his camp, however, expect him to venture into a strong market if he does enter free agency, a source tells PFR (Twitter link).
The makeup of this offensive line could realistically go any number of ways over the next few months, and how the front five shakes out could have free agent implications. If Berger mounts an attempt to hold onto the starting center position, is it possible Sullivan is released, especially given that he has no guaranteed money remaining and very little in the way of a prorated bonus? Or could the Vikings decide to go with Harris/Berger at right guard and clear out Fusco's $3MM+ base salary?
We haven't even discussed how the Vikings' front five might change after 2016, when much of the offensive line is projected to hit free agency — but that's a topic for another day. Suffice it to say: a solid player is going to emerge from this group and hit the free agent market at some point before September, and although Loadholt looks like he'll be the odd man out, other scenarios could certainly come into play.
Photos courtesy of USA Today Sports Images.
Follow @PFRumors