The old adage that defense wins championships may or may not be true, but you'll be hard-pressed to find a title-winning team that didn't build heavily through the draft. Rookie classes, naturally, are evaluated on the perceived upside of the NFL newcomers, but which rookies are ready to contribute right out of the gate? And, how do they fit in with their new team schematically?
To help us forecast the immediate future of these NFL neophytes, we enlisted the help of draft guru Dave-Te Thomas who has served as a scouting personnel consultant to NFL teams for multiple decades.
Today, we continue PFR's Impact Rookie series with his insight on the Baltimore Ravens' draft class:
The Ravens brought home a cache of eleven players from the draft proceedings and even with them falling just short of a dozen newcomers, it is obvious that the team really needs to get healthy. With a gaggle of starters and substitutes watching from the sidelines last year, one hopes that Baltimore management took full advantage of Obamacare.
The Ravens would reach a dubious record in 2015, as they placed twenty players on injured reserve, the highest figure in head coach John Harbaugh's eight seasons at the helm. That total grows when you factor in the players that went down before the season even started. The expanded list includes starting tight end Dennis Pitta, whose hip woes kept him parked in the trainer's room. The team also placed linebacker Zach Thompson (shoulder) on injured reserve prior to his release.
With that in mind, this look at the Ravens' impact rookies for 2016 will include the team's 2015 first-round choice:
2015 First Round Selection – Breshad Perriman, WR (Central Florida, No. 26 overall in 2015)
This series typically focuses on rookies from the 2016 class but, technically, Perriman is still a rookie, having spent his first season on the sidelines with a knee injury. With all of the injuries suffered by his receivers, Harbaugh is going to have a lot of questions he needs answered by that unit during training camp, with Perriman being the biggest question mark.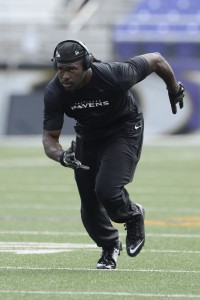 The Ravens expect that Perriman will be ready for Week 1 after suffering another knee injury this offseason and they are banking on that being an accurate prognosis with Steve Smith still recovering and Darren Waller suspended for the first four games of the season. Perriman, a questionable pick even when he was healthy in 2015, now faces another grueling rehab while his teammates sweat out in the summer heat. A recent MRI revealed that the extent of the recent knee damage would not require reconstructive surgery, but the player who is blessed with great athleticism, still has yet to answer if he is a football player or just a Combine/Pro Day darling.
Perriman's three seasons at Central Florida produced 115 catches, as his 2,243 aerial yards rest ninth on the school's career-record chart. He also shares the ninth spot on the all-time chart with sixteen touchdown catches. Now, he hopes that his pro career will produce similar numbers to his father, Brett, who spent ten seasons in the league and recorded 6,589 yards behind 525 receptions that included 30 touchdowns.
Perriman makes good body adjustments to locate the soft spot in the zone. He is a fairly smooth runner, but needs to be quicker in his routes. He is really just a strider who must stay low in his pads to effectively create advantage. He has to do a better job of planting and driving out of his cuts, as he sometimes gathers too much and gears down in doing this. Despite his timed speed (4.52 in the 40-yard dash), he might not have the explosion you look for coming out of his breaks, having to rely upon his size and leaping ability to get to most throws.
Perriman is better served on bubble screens, hitches and post patterns because he takes soft angles rather than sharp 90-degree cuts. Still, he does have the loose hips to change direction and the weave to slip and avoid underneath tackles. When used underneath, he is capable of making better cuts than he does on deep routes. He has quick feet in transition, but just a modest burst to separate. He has more success getting open when he weaves and leverages to move defenders and create space. He is more effective on quick slants and bubble screens due to his long reach.
Perriman will never be confused for a racehorse after catching the ball, as he does not have that explosive separation ability, but he has the functional leg drive to get through initial tackles. He keeps his shoulders square to absorb blows and while he is not a load to bring down in the open, once he gets his legs churning, he can power through.
If the 2015 first rounder does make it back by the season opener, he will likely line up behind Kamar Aiken at the split end position. Aiken led the team with 75 receptions and five touchdowns last year, but that was one of the few bright spots from a unit that placed Baltimore tied for 23rd in the league, as they only scored 21 times through the air. The Ravens receivers failed to get to 37% of Flacco's passes, either by running poor routes or not concentrating well and that saw the defense take advantage, picking off 21 passes, which tied for third-worst in the league. If healthy, Perriman will have an opportunity to make a mark in his deferred rookie campaign.
Continue reading about the Ravens' rookie class..
First Round – Ronnie Stanley, OT (Notre Dame, No. 6 overall)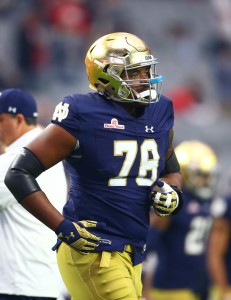 When Laremy Tunsil began his draft day slide, many draft experts had already pulled out their Sharpie and placed the Ole Miss blocker's name next to Baltimore on their draft board. The Ravens decided they wanted a tackle that might bring a little less turmoil to the locker room and opted for the "safe" pick in Stanley. When the pick was made, there were indications that the Fighting Irish left tackle would begin his career at left guard. Those plans quickly changed, however, when the Ravens cut left tackle Eugene Monroe.
Stanley was named his team's Offensive Player of the Year, adding several first-team All-American honors, in addition to being named a semifinalist for the Lombardi Award and Outland Trophy. Some scouts felt those honors were based on his 2014 performance and not because of his 2015 numbers. Yes, the left tackle helped lead the way on nineteen touchdown runs over the left side of the field, grading 86.5% for blocking consistency, but he also allowed two sacks among ten total tackles for loss in the backfield.
He also committed some hiccups with his hands as he was called for holding twice and charged with five false starts during his final season. That up-and-down performance saw him flagged four times in the Georgia Tech game and his struggles vs. the speed rush was exposed after Clemson's Shaq Lawson made four stops for losses in the Notre Dame backfield.
Coaches reason that they can correct Stanley's "blips," once they teach him proper hand technique, but he will have to also become more alert to the snap cadence, as false starts hurt the Irish a bit last season. What impresses professional teams the most about Stanley is his size and athleticism. He has that large frame (6:05.6) with massive hands (10 5/8-inch width) and that condor-like wing span (84 ¼-inches) that teams require from their left tackles.
Stanley is also explosive coming off the snap (1.79-second 10-yard dash) and has that "dancing bear" footwork to seal off the edge, when he is successful in maintaining a proper pad level. He generates proper knee bend to redirect and work in-line, where he operates well in unison with his guards and center. With his lateral agility, many scouts feel that if he can generate a better hand technique and more force behind his punch, he could be a dominant force in protecting the pocket's blind side.
What does frustrate scouts is that with all of his athleticism, Stanley will never be confused for an all-out battler. He is more apt to try and negotiate with a defender on a play, preferring finesse to displaying raw strength. When Stanley shied away from strength test drills at the 2016 NFL Scouting Combine, stating he had a left wrist injury, some teams were concerned. He eased those concerns somewhat during Notre Dame's Pro Day, putting up the 225-pound bar a respectable 24 times, slightly under the average for the group that performed in the event during their time in Indianapolis (45 participants averaged 24.36 reps).
Fourth Round – Chris Moore, WR (Cincinnati, No. 107)
With Perriman's status up in the air, the Ravens hedged their bets by drafting another big wideout. Moore, who offers some reminders of former Raven Anquan Boldin, has experience at split end, flanker, and slot receiver. If Smith and Michael Campanaro's are hindered by their respective injuries, Moore could emerge as a potential All-Rookie candidate.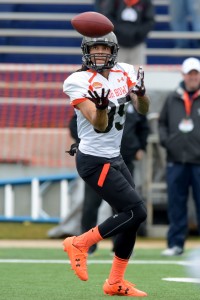 It is amazing that this Bearcats receiver did not get the national attention he deserves. After all, if you look at the "hidden numbers" that he has produced during his last two seasons in the starting lineup, he ranks with the more heralded elite pass catchers that have went on to the NFL as early round draft selections.
Moore not only holds the school career-record with 26 touchdown receptions, but 24 came since Cincinnati joined the American Athletic Conference, also establishing the league's all-time mark. Scouts recognize Moore as the best receiver in college when it comes to getting behind the defensive back, as his 26 touchdowns have generated 894 yards, as his average gain of 34.38 yards per touchdown reception (26 scores) also leads active players at all college levels.
Moore has accounted for 40.04% of his receiving yards via touchdowns, joining Devin Smith of Ohio State (30 touchdown catches generated 1,182 yards; 47.22% of his total receiving yards; an average of 39.40 yards per score) as the only receivers to account for 40% of receiving yardage from scoring grabs since the 2000 season. Only Smith (39.4 yards gained per touchdown reception) and Moore (34.38 yards per scoring grab) have averaged more than 34 yards per touchdown catch in a career since the 2010 college football schedule.
Moore has outstanding quickness, agility and balance. He gets to top speed in a hurry and maintains acceleration throughout his routes. He has that quick second gear burst as a receiver and is a definite threat coming out of the backfield on fly sweeps and curls that defenses must account for him on every play. With his exceptional timed speed he can accelerate away from anyone, especially when given space, but needs to continue adding bulk and needed strength, as he does not always beat a physical jam or win battles for the ball in tight areas.
The former Bearcat plays with suddenness and has the lateral agility to come out of his breaks cleanly, which makes him quite effective on sweeps. With his rare timed speed, he can stretch the field from the split end position and he also has the foot quickness and balance to work the short area coming out of the slot. He has loose hips in and out of his breaks, along with the body control and vision to separate once he executes his second gear. It is his excellent initial quickness that makes it tough for cornerbacks to remain in their pedal for too long and if the opponent gives him a cushion, he has no problem absorbing it and getting behind his man.
Moore shows a sudden burst off the snap and gets into his patterns with no wasted steps. He possesses the leaping ability and acceleration to get vertical and extend for the ball in a crowd, showing true courage sacrificing his body to compete for the jump balls. He has excellent hip snap, dropping his weight and keeping his pads down to accelerate instantly coming out of his cuts. He has fine balance in his running stride, executing crisp plant-and-drive skills to get in and out of his breaks.
Moore has that verified track speed needed to immediately burst into his routes. He eats up the cushion in an instant and with his fluid lateral agility, he maintains stride on slants and screens. When he is up against the press, it is rare to see him take false steps or cock his arms before firing off the snap. Sometimes, that speed gets him into trouble, as he runs so fast, he might miss a cut, but he never looks sloppy trying to plant-and-drive.
He is a quick accelerator who shows suddenness off the snap. Once he gets in the open field, few defenders can mirror him. You can see on film his suddenness when changing direction and he has that second gear needed to generate the up field burst. He can create lanes, but has to make sure he does not get too busy at the X's, even though he is the type that can win battles vs. the jam.
All in all, Moore could prove to be a brilliant pick for GM Ozzie Newsome & Co.
Dave-Te Thomas owns and operates The NFL Draft Report, a service providing insight to league scouting departments for over 40 years. All year round, you can read Thomas' in-depth reviews of both blue chip prospects and diamonds in the rough by visiting the NFL Draft Report blog.
Photos courtesy of USA Today Sports Images.
Follow @PFRumors