The meeting Browns receiver Josh Gordon had with NFL commissioner Roger Goodell on Wednesday could bode well for the suspended star's potential reinstatement to the league, reports Mary Kay Cabot of cleveland.com. Goodell wouldn't have summoned him to New York if the commissioner didn't believe Gordon had begun taking the necessary steps toward a return, according to Cabot.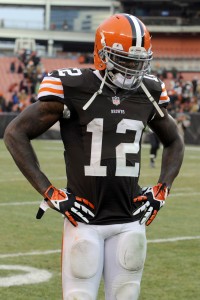 [RELATED: Browns Sign Nick Hayden]
Various substance abuse-related suspensions have cost Gordon 29 of the Browns' past 48 games, including all of the 2015 season, and the league denied his previous petition for reinstatement in April after he failed a drug test. Gordon, 25, is next eligible to apply for reinstatement Aug. 1, and he could rejoin the Browns immediately if Goodell allows him back into the league. Goodell will first need evidence that the ex-Baylor standout has gotten past his substance issues, though, and then the Browns will have to show a willingness to welcome back the immensely talented Gordon.
It might help Gordon's cause that owner Jimmy Haslam has taken an interest in his well-being, per Cabot. But Gordon's future (or lack thereof) in Cleveland is likely to rest with new head coach Hue Jackson, who will decide whether the wideout fits into his program. If not, the Browns could trade or cut Gordon – who, with three accrued seasons, doesn't have enough service time to avoid waivers.
The last time Gordon took the field for an extended period of time, in 2013, he performed like one of the league's best players, racking up 87 receptions, a jaw-dropping 1,646 yards and nine touchdowns in 14 games. His ability, youth and the rebuilding Browns' dearth of talent could lead the club to plug him back into its lineup opposite rookie first-round wideout Corey Coleman, who also attended Baylor. It's worth noting, too, that Browns quarterback Robert Griffin III played at Baylor with Gordon.
"Josh is family. We went to Baylor together. I love the guy," Griffin said during his introductory conference call in Cleveland in March (via Mike Florio of Pro Football Talk).
In the event Gordon returns, he'll make a relative pittance this year, $1,068,406, before becoming a restricted free agent next offseason.
Photo courtesy of USA Today Sports Images.
Follow @PFRumors