SUNDAY, July 31: Smith has issued more comments on this matter. Per Smith, team officials considered negotiating with Hopkins, but ultimately made the decision to hold firm. He added that Hopkins will be fined in accordance with the CBA for each day he is absent (Twitter links to Aaron Wilson of The Houston Chronicle).
SATURDAY, July 30, 4:03pm: Texans GM Rick Smith addressed the situation surrounding the team's No. 1 wide receiver.
"We are disappointed DeAndre has elected not to report to training camp with the rest of his teammates. He has expressed his position regarding his contract status, and we have been clear with both he and his representatives of ours. Our focus is on the 2016 season and all of our collective efforts and attention with be centered on that endeavor," Smith said, via Schefter (Facebook link).
12:10pm: ESPN's Field Yates tweets that Hopkins will make that $445K bonus for being on the roster on August 4th. If the wideout is placed on a reserve list, he will not earn the extra money.
11:20am: Aaron Wilson of the Houston Chronicle notes (via Twitter) that the Texans have continually refused to extend players with two years left on their contract, although the J.J. Watt extension was an exception.
Wilson also tweets that Hopkins recently switch representation to Creative Artists Agency.
10:34am: ProFootballTalk.com (on Twitter) reports that Hopkins never showed up to camp in the first place. As the tweet notes, there's "major procedural differences" between leaving camp and being a no-show.
PFT's Mike Florio elaborates on the differences, noting that Hopkins is still subject to the $40K fines for not having showed up. If the wideout had left, the Texans could have placed the receiver on the 'reserve/left squad list.' Hopkins would have had five days to ponder the punishment, and under this scenario, the team could have barred the receiver from playing in 2016.
10:25am: Texans star DeAndre Hopkins is unhappy with his contract, and the wideout has left camp, according to ESPN's Tania Ganguli and Adam Schefter (Twitter links). The Texans reportedly "declined to negotiate," and a hold out is "underway." Schefter notes that Hopkins will now be subject to $40K fines for each day missed.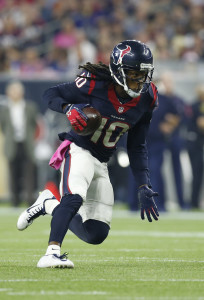 The 2013 first-round pick is set to earn $1MM in 2016 via his base salary and an additional $445K via a roster bonus, and the team recently picked up the receiver's $7.92MM fifth-year option for 2017. Paying less than $9MM for two years of All-Pro production is an obvious bargain, and Hopkins' 2016 base salary ranks 65th in the league. For comparison's sake, Bears wideout Alshon Jeffery leads all wideouts with a $14.59MM base salary for next season.
[RELATED: Texans Pick Up Hopkins' Fifth-Year Option]
Following a breakout 2014 campaign, Hopkins truly established himself as one of the league's top receivers in 2015. The wideout finished with career-highs in receptions (111), receiving yards (1,521), and touchdowns (11), earning him his first Pro Bowl appearance. ProFootballFocus.com (subscription required) placed Hopkins sixth among their rankings of the league's receivers.
The 24-year-old recently said that he isn't seeking a specific contract and just wants to sign a fair contract.
"I'm not looking for a certain range," Hopkins told Ganguli. "I just want to be treated for what I'm worth. That's fair to say, right?"
Of course, Hopkins also previously indicated that he wants to spend his entire career in Houston.
"If I can play my whole career here, I would," Hopkins said."I love this place. This organization took a chance on drafting me. You have to look at that…. I love this organization. I love the fans here. I'll never forget after we went 2-14 (2013), I don't recall too many fans bailing out on us. It speaks a lot about this city and who they are."
If the hold out somehow carries into the regular season, the Texans will be relying on several rookies to step up. As Roster Resource shows, Cecil Shorts III will presumably slot in as the team's top wideout, followed by first-rounder Will Fuller and third-rounder Braxton Miller.
Follow @PFRumors