Could we see Johnny Manziel in the CFL? It's not clear whether the former Browns quarterback is interested in making his comeback north of the border, but if he is, the CFL commissioner says he won't necessarily stand in the way, as Kevin Seifert of ESPN.com writes.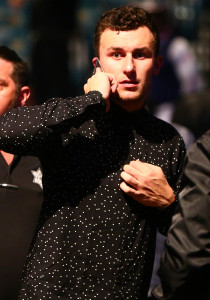 [RELATED: Cowboys Not Interested In Johnny Manziel]
"I rely primarily on the assessment of the team," CFL commissioner Jeffrey Orridge said. "It is their charge to evaluate the talent and to bring that talent forward. To be candid, if there is a situation that we believe warrants additional input, we certainly want to provide that to the team. We're obviously charged with making sure that the integrity of the league and the integrity of our brand is perpetuated."
The CFL commissioner has the power to intervene in any signing and Orridge has exercised that power in the past. Earlier this summer, he reportedly blocked the Saskatchewan Roughriders from signing Greg Hardy, though a CFL spokesperson denied that in a statement.
Manziel is on the Hamilton Tiger-Cats' negotiation list, meaning that the franchise has the first opportunity to sign him before any other CFL team if he shows interest in playing there. Reportedly, Manziel is working on cleaning up his off-the-field life before resuming focus on the NFL, but the CFL could be a wise pit stop to show teams that he can be a worthwhile addition.
Photo courtesy of USA Today Sports Images.
Follow @PFRumors