No surprise here, but the Cowboys are not interested in signing Johnny Manziel at this time, team executive vice president Stephen Jones said in a radio interview on Friday.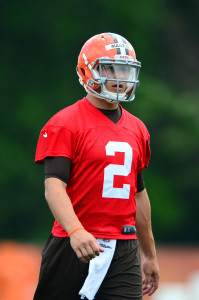 [RELATED: Latest On Greg Hardy]
"No, there's no chance," Jones told CBS' Tiki and Tierney (via Twitter links). "Obviously Johnny needs to get his hands around his life…He needs to do things that make him a good person off field before he can ever have chance of being successful in our league. I'm sure he'll get another chance. But, at the moment, it certainly won't be in Dallas."
This offseason, the Cowboys watched Demarcus Lawrence, Randy Gregory, and Rolando McClain all get slapped with suspensions. Last year, the team dealt with the walking headache that is Greg Hardy, an experience that owner Jerry Jones did not enjoy. The Cowboys will surely continue to gamble on players when they feel it is a worthwhile risk, but nothing about Manziel screams "worthwhile" at this time.
With his recent history of off-the-field transgressions and possible substance abuse issues, football is probably the furthest thing from the minds of Manziel and those around him. Manziel gave up on playing football in 2016 and has shifted his attention to getting his life together with the hope of playing in 2017. Some reports had Manziel's friends questioning whether he ever wanted to play football again, but the QB shot that notion down in a recent statement.
"I'm actually doing well. I have good friends around me supporting what I do and I try to support them in what they want to do," the statement read. "I'm not saying I'm never drinking again, but for now just mostly being healthy. I've got a killer gym in my house and I can spend time working out. I'm interested in doing a lot of different things in my life — including football — but, right now, I'm just exploring options and waiting to see what the future holds."
Photo courtesy of USA Today Sports Images.
Follow @PFRumors