It's mid-August and one of the league's most talented defensive ends remains without an NFL team. To date, no club has been willing to take on the baggage that comes with signing Greg Hardy and few have even been willing to give the idea real consideration. Despite that, agent Drew Rosenhaus claims that there is a healthy market for his client that will result in a deal before long.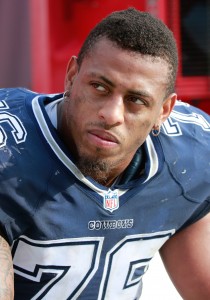 [RELATED: Jerry Jones Reflects On Greg Hardy's Time With Cowboys]
"There is some substantial team interest in Greg," Rosenhaus, Hardy's agent, told Dan Graziano of ESPN.com. "I do believe he will be signed in the near future by either a team that suffers an injury on the defensive line or a club that realizes it simply needs more talent on the defensive front."
This summer, the Redskins and the Jaguars thought about signing Hardy but both teams 86'd the idea pretty quickly. The Redskins internally discussed Hardy (and likely leaked the news to gauge public reaction) but decided against adding the former Pro Bowler in the wake of linebacker Junior Galette's season-ending injury. The Jaguars, meanwhile, appear to be the only team to have actually auditioned Hardy, but they have ruled him out for the time being. Graziano hears that the Jaguars only worked out Hardy to see how he sounded in person and looked on the field in case they were to suffer an injury.
Teams know that signing Hardy will bring on a PR firestorm, but they are more wary of how the troubled defensive end could potentially poison the locker room.
"It's not what happened in his past," said one official whose team is not interested in Hardy. "It's the way he reacted last year to everything that happened in his past that would concern me. If he'd been a model citizen and played at a high level, he'd still be in Dallas."
For now, the former Panthers star is working out in Florida with NFL combine trainer Pete Bommarito while he waits for a call from a team in need.
Photo courtesy of USA Today Sports Images.
Follow @PFRumors