The old adage that defense wins championships may or may not be true, but you'll be hard-pressed to find a title-winning team that didn't build heavily through the draft. Rookie classes, naturally, are evaluated on the perceived upside of the NFL newcomers, but which rookies are ready to contribute right out of the gate? And, how do they fit in with their new team schematically?
To help us forecast the immediate future of these NFL neophytes, we enlisted the help of draft guru Dave-Te Thomas who has served as a scouting personnel consultant to NFL teams for multiple decades.
First Round – Kenny Clark, DL (UCLA, No. 27 overall)
Sometimes, even big men fly under the radar, as seems to be the case with this Bruins standout. Named his team's MVP, he was a dominating force in the middle of the line, taking over starting duties as a sophomore. Well-respected by the staff and teammates, the co-captain preferred to not be in the limelight. However, NFL scouts saw him as a bright light on a dark night.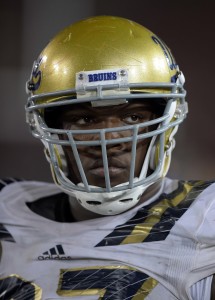 In three seasons, Clark delivered 153 tackles with six sacks and 18.5 stops behind the line of scrimmage. In his two seasons as a starter, he delivered 117 of those tackles in run force, posted a total of 28 hits for losses (assists and solos) while bringing down twelve other ball carriers for no gain. Twenty-four of those stops came inside the red zone, including seven on goal-line stands.
Clark has really come on strong in recognizing blocking schemes and it was rare to see him bite on misdirection or play action during his junior season. He has no problems taking plays from the chalkboard to the playing field, needing minimal reps to retain. He plays with very good awareness, taking advantage of his impressive arm length to keep blockers off his feet and legs. The UCLA product demonstrated that he picks up schemes quickly and he does well staying with the flow of the play to close on the ball.
Clark has a very explosive initial step with quick feet, good athleticism and balance for his size, along with the body control and low pad level to come off the snap and get an immediate advantage versus a lethargic offensive lineman. He flashes a strong, consistent hand punch, enough to consistently put the blocker up on his heels, driving with good leverage walking that lineman back into the pocket. He has that initial burst needed on movement and the suddenness to gain advantage when engaging double teams. He has good initial quickness coming off the snap and for a player of his size, that burst can surprise an offensive lineman.
Clark appears poised to show that he should have gone earlier than No. 27 in this year's draft. Word out of Green Bay is that Clark will start at nose tackle in the base 3-4 and his skill set plus versatility will ensure that he sees plenty of time on the field as an NFL frosh.
Continue reading about the Packers' rookies..
Second Round – Jason Spriggs, OT (Indiana, No. 48 overall)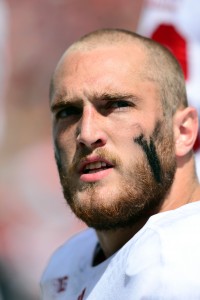 The team might have hedged their bets on the offensive line jelling this year by taking Indiana's Jason Spriggs in the second round. Injuries have always impacted the Packers front wall and Spriggs has obvious pedigree as a left tackle, having allowed just one sack for the pass-happy Hoosiers during his last three seasons in the lineup. He also showed impressive versatility for teams by playing well at Senior Bowl practices as a guard.
Spriggs has a tall frame with minimal body fat, but will need to add at least 20-to-25 pounds of bulk to succeed at left tackle. Fortunately, he's entering a situation in Green Bay where he is going to be brought along behind starters David Bakhtiari and Bryan Bulaga. Still, he'll be seeing plenty of snaps in relief of both players and, in the event of an injury, Green Bay won't hesitate to throw him into the fire.
In pass protection, Spriggs demonstrates more than enough foot quickness to slide, good knee bend and hip flexibility, patience and a strong hand punch. He stays square and balanced when shuffling and sliding. Even when he gets over-extended, he is quick to recover, thanks to his above average athletic ability. The thing that separates him from others is his drop step/kick to gain depth and width needed to anchor. He struggled at times in 2014 with his kick slide (was playing with knee and neck injuries at the time), but made adjustments and, as the year progressed, he developed the balance and body control needed to make the reach blocks, use his change of direction agility to wall off and generate the foot quickness to recover.
When it comes to run blocking, Spriggs has a bit of work to do, but the potential is certainly there. He has the power to move the pile and drives block with leverage, but could be exceptional here with more weight. The Packers rookie is a good in-line blocker, possessing a wide base as he runs his feet well. He also has the good footwork to stay on his feet on the move and can handle the switch-off well when working in combination with his guard (see 2015 Wake Forest, Rutgers, Michigan and Purdue games).
Fourth Round – Blake Martinez, LB (Stanford, No. 131 overall)
When scouts see Martinez perform on the football field "old school" thoughts start going through their heads. While he may not be flashy, he plays with great aggression. He wasn't the biggest "mike" guy in the draft, but when he attacks the inside gaps, he does so with authority. He is a lunch-pail toting, blue-collar level middle linebacker who has drawn comparisons to Nick Barnett and David Harris, two scrappy performers who played well above their athletic talent.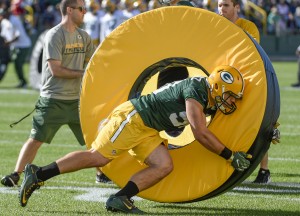 Martinez is a compactly built athlete who might lack the bulk to shed vs. the bigger offensive lineman, but shows very good balance and body control, along with the ability to stay on his feet. He has a strong hand punch to shock and reroute short area receivers, partially compensating for the lack of long arm reach to keep defenders off his body. He has a good feel for plays in front of him and the quick outside range to string plays wide.
This kid plays until the whistle and you will never see him throttle down when not involved in the play. He does a good job of making calls and no longer plays with the reckless abandon he showed at strong-side linebacker earlier in his career. The Packers recognize this and they already have him ticketed for big things on defense. As Rob Demovsky of ESPN.com noted recently, Martinez will start in the base 3-4 formation while also seeing time in other packages. The two-time captain will be relied upon as a leader, despite being one of the younger players in green and yellow on the field.
Dave-Te Thomas owns and operates The NFL Draft Report, a service providing insight to league scouting departments for over 40 years. All year round, you can read Thomas' in-depth reviews of both blue chip prospects and diamonds in the rough by visiting the NFL Draft Report blog.
Photos courtesy of USA Today Sports Images.
Follow @PFRumors