Earlier this week, Jason Cole of Bleacher Report sat down with Cowboys owner Jerry Jones to discuss a wide range of topics on his organization and the NFL as a whole. The whole interview is worth a read, but we have also compiled some of the highlights below.
On the suspensions of DeMarcus Lawrence, Randy Gregory, and Rolando McClain plus dealing with Greg Hardy last year:
Gregory would have been a bonus. We were aware of Gregory's iffiness at the end of last season. I look at him as a bonus that is looking diminished right now. We didn't alter our approach in any way with him. There are issues you read about in the program that he has to address, and he has done that. So we can [draft] the Gregorys because of the core character base we have on our team. I've had teams where we certainly had some behavioral issues and won big. That wouldn't have worked if you had not had the overwhelming number of players on your team who had no issues relative to availability, as to suspension. We've had teams that could have a Charles Haley. You could have a player that gave you some iffiness but his talent would make a real contribution, but you had to have an overwhelming base of players so you know exactly what you had. That allows me and us to take risk, and we've had real success in taking risk with players.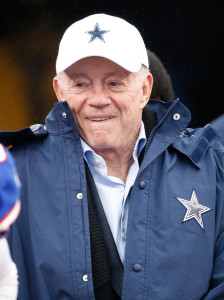 So recognizing the risk involved and the reward that could come with a player of Gregory's talent, you deal with a player of Hardy's talent, you deal with others like that. But with Gregory and Hardy, we had too much at one position. That will give you a concern. If you had that two or possibly three and they were on different sides of the ball, at different position groups, that would lessen how this looks. We had an issue with [Joseph] Randle last year. We don't have him on the roster now, but since we had McFadden and other backs, we didn't have as big an issue with the position. That really can create some scrutiny and some critiquing and some second-guessing even on our part when it really happens at one position as it did last year with Gregory and Hardy as right ends, rush ends.
But therein lies why we took some risk, because of the value of the position. And really, our contract with Hardy last year was a thing of beauty relative to structuring to getting him at the values and getting him, period. I do recognize the criticism…was more than we expected because of the pictures and things like that, and his approach to things was more than we had anticipated. And don't misunderstand my statement. We abhor domestic violence and are in no way making a statement there, but what we are doing is trying to put a team together within the rules.
On whether he regrets not cutting Hardy sooner:
Well, if I had had a crystal ball and known we were not going to get [Tony] Romo back and only win four games…in hindsight, there's a lot to consider here. And I think it had a lot to do with the success Hardy had. Had we been a team that was contending, had we been a team that was in the Super Bowl hunt, you might have had a little more success with Hardy….He certainly he has a lot of ability, but the results for our defense certainly exacerbated the criticism of the decision to bring him on.
On rookie Ezekiel Elliott:
Well, the fact that he's a rookie—albeit an accomplished one—but getting him acclimated and having high expectations of his production has some iffiness to it. I'll be the first to admit that. On the other hand, his skills are outstanding. It's arguably the most impressive thing. The staff at Ohio State will tell you that. He's an outstanding running back. He's an instinctive receiver. He's as instinctive as you could imagine as a blocker.
It's like [former Cowboys fullback] Daryl Johnston. With Daryl, it wasn't the guy he was supposed to get, but it's the one that would appear when he wasn't supposed to. He had the instincts to pick up that guy first because if he took the guy he was supposed to get, that guy would have made the tackle. So there are instincts in blocking. [Elliott] has that, and he has real good instincts relative to route running. So those things could really add to [the team], but we're not just counting on him.
We've got [Darren] McFadden, who did exceed expectations for us [last season]. So with that, the kid we got from Washington [Alfred Morris], [Lance] Dunbar, that's a position of strength for us, and I say position as it relates to Ezekiel and the expectations for him. Now, does he have some skills that we see that are just exceptional in terms of running the ball? We think so. The running back thing, when I look at that, I see a group of players with Ezekiel, his talent being the juiciest unknown and a way to really add a level that his talent would allow you to have.
Photo courtesy of USA Today Sports Images.
Follow @PFRumors