SATURDAY, 8:45am: For what it's worth, Manziel does have one offer… from the Arena Football League. Commissioner Scott Butera told TMZ that his league would welcome the embattled quarterback with open arms.
"We could provide a strong platform for him to demonstrate that he is back," Butera said (via Michael David Smith of ProFootballTalk.com). "We would also work with him and provide him whatever help he needed to live a healthy life."
Unfortunately, there's only about a month left of the AFL season, so it's uncertain whether Manziel could even see the field in 2016.
THURSDAY, 6:29pm: The NFL suspended Johnny Manziel for four games this season for a violation its substance abuse policy, and the former first-round pick has indicated privately his best chance at a return to the league will be in 2017, Jeremy Fowler of ESPN.com reports.
This doesn't come as a shock to those around the league, Fowler notes, with most categorizing the former Heisman Trophy-winning quarterback as not being in game shape. A personal-conduct penalty could soon follow Manziel's most recent ban, with the recently cut passer having been charged with misdemeanor assault for a January incident involving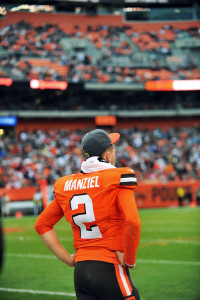 his ex-girlfriend in Dallas.
An NFL executive also appeared to categorize the league as distancing itself from Manziel from a football sense, telling Fowler, "It's about getting his life on track. That's it." The fact that Manziel did not display much on the field won't help his effort to revive what's been one of the more catastrophic careers in memory.
He carries a 57% career completion rate and has thrown seven career touchdown passes compared to seven interceptions and couldn't stay on the field with the Browns last season due to off-the-field issues. Manziel will have a difficult time convincing a team he's employable next season based on the events of the past two years.
The Browns, though, look to have saved some money as a result of the suspension.
Cleveland cut the maligned first-round pick in March and was on the hook for the remaining guaranteed money in his rookie deal as a result of Manziel clearing waivers. Manziel's $1.17MM 2016 salary is fully guaranteed, as is $1MM of his 2017 salary. But Mike Florio of Pro Football Talk reports the contract contemplates voiding those guarantees for a number of reasons, with an NFL-imposed suspension being one. In that case, the team would not have to pay the remaining $2.17MM.
The Browns waiving Manziel before he was suspended clouds this issue somewhat, however.
Photo courtesy of USA Today Sports Images.
Follow @PFRumors