The Chargers have yet to sign their first-round pick and, from the sound of it, the two sides aren't any closer to an accord than they were last week. Joey Bosa's team hasn't spoken with the Chargers since Thursday, a source tells Mike Florio of Pro Football Talk.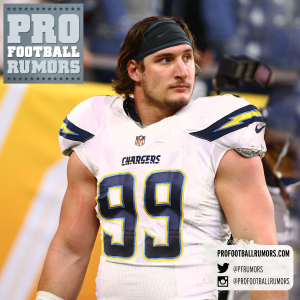 [RELATED: Impact Rookies — San Diego Chargers]
Bosa's reps reportedly want the entirety of his ~$17MM signing bonus to be paid in 2016. San Diego, meanwhile, wants to wait until next March before paying out a "significant portion" of the bonus. The two sides are also hung up on offset language. In short, in order for Bosa to agree to offset language in the fourth year of the deal, his team wants to see the majority of his bonus paid up front. At last check, the Bolts want to give Bosa roughly 61% of his signing bonus during this calendar year, which is the same payout schedule the Cowboys agreed to with No. 4 overall pick Ezekiel Elliott.
Bosa stands as the only unsigned first-round pick after Joshua Garnett reached a deal with the 49ers and Darron Lee inked his contract with the Jets.
Photo courtesy of Pro Football Rumors on Instagram.
Follow @PFRumors