The old adage that defense wins championships may or may not be true, but you'll be hard-pressed to find a title-winning team that didn't build heavily through the draft. Rookie classes, naturally, are evaluated on the perceived upside of the NFL newcomers, but which rookies are ready to contribute right out of the gate? And, how do they fit in with their new team schematically?
To help us forecast the immediate future of these NFL neophytes, we enlisted the help of draft guru Dave-Te Thomas who has served as a scouting personnel consultant to NFL teams for multiple decades.
Today, we continue PFR's Impact Rookie series with his insight on the San Diego Chargers' draft class:
First Round – Joey Bosa, DE (Ohio State, No. 3 overall)
Is San Diego regretting their draft day surprise? Many felt that Jalen Ramsey was a perfect fit for the Bolts as he could have filled the free safety role. Instead, they passed on the best defensive player in the draft to take defensive end Joey Bosa. As camp approaches, Bosa and the front office are at an impasse over his contract.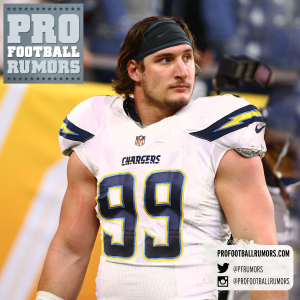 Bosa is scheduled to start at left defensive end, where the Chargers let former second round pick, Kendall Reyes, also leave the complex to join Weddle in Baltimore. After a promising rookie year that saw Reyes tally 5.5 sacks, nine stops for loss and nineteen QB pressures, Reyes failed to impress during his three years as a starter, making two sacks and 32 hits through fifteen assignments with the first unit last year.
[RELATED: Follow Pro Football Rumors On Instagram]
Bosa was suspended for the 2015 season opener and was slow to get back into his usual "bull in a china shop" self in 2015. Coming off a 12-sack, 21.0-tackle-for-loss 2014 national championship campaign, Bosa saw his numbers dip to five sacks in 2015. He did post sixteen stops behind the line of scrimmage, tying for 15th on the school season-record list, adding fourteen QB pressures. Eight of his tackles in the backfield came on third-down snaps and the opponents were held to a rushing average of 0.43 yards on plays directed at him. He would close out his career third in OSU annals with 26 sacks and fourth with 50.5 tackles-for-loss.
Bosa's outstanding instincts shined throughout his career. He displays improvement in the strength department, as his body has begun to mature to NFL level. The first thing you notice on film is that he plays with a high motor and has excellent initial quickness to surprise the lethargic offensive lineman. He shows above average balance working down the line and in pursuit. He gains advantage with his sudden moves and change of direction agility, doing a nice job of using his hands and arm extension to avoid low blocks and maintain balance on the move. He is a quick twitch type of player with the natural movement skills to pursue from the backside, shooting the inside gaps, evident by his pass defense performance that flattened Christian Hackenberg on a fourth-and-5 play to secure a victory over Penn State in 2014. He shows good body control working down the line to take an inside gap as a bull rusher. He runs with a long stride, building acceleration nicely. He flashes initial quickness along with sudden explosiveness off the line to surprise a lethargic blocker, and on the move, he is not as quick to redirect.
While Bosa only sealed the deal with five sacks in 2015, he did record fourteen QB chase-downs, including eight on third-down snaps and two on fourth-down plays. While he was effective as a pass rusher in 2014, he really has yet to develop an array of pass rush moves, relying more on his length and raw power to beat blocks on his path to the quarterback. He is known more for that power, but as he matures, he needs to be more efficient with his swim- and rip-move techniques. In any event, he can be an impact player for the Chargers in 2016 – once he gets his contract sorted out.
Read more about the Chargers' rookie class..
Second Round – Hunter Henry, TE (Arkansas, No. 35 overall)
With Antonio Gates starting to show his age and Ladarius Green bolting to Pittsburgh, the team's plans for a two-tight end scheme led them to take the best tight end in the draft in the second round. Mackey Award winner, Hunter Henry, is the heir apparent to Gates' throne, but is already penciled in to play opposite Gates in 2016.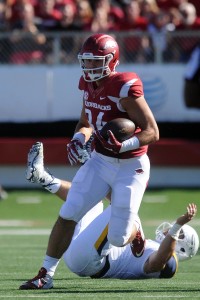 In three seasons with the Razorbacks, Henry has compiled 1,661 yards with nine touchdowns behind 116 receptions (14.32 ypc) that included thirty starting assignments through 38 appearances. He was rated the top tight end in the country coming out of Pulaski Academy, where he snared 107 passes for 1,449 yards and fifteen touchdowns as a senior. The previous year, he delivered 64 grabs for 1,093 yards and sixteen more scores.
While those numbers verify his pedigree as a receiver, Henry is still a work in progress in another critical factor of a tight end's game – blocking. The Freshman All-American started ten times in 2013, as he grabbed 37 balls for 513 yards and a pair of scores. His yardage total ranked third among major college freshmen tight ends. As a sophomore, he started seven games while delivering 28 receptions for 409 yards and four scores for a predominantly run-oriented offensive team.
In 2015, Henry put it all together and was named as the nation's top tight end. The All-American and All-Southeastern Conference pick paced Arkansas with 51 receptions, tied for ninth on the school's overall record chart. The only Razorback tight end to catch more passes in a season was fellow Mackey Award winner, D.J. Williams (54 in 2010 and 61 in 2008).
Henry has soft, large hands and good flexibility to reach high or go low for the tossed ball. He is a natural hands catcher, but will use his body to absorb the ball when working in a crowd with defenders draped all over him. He does a very nice job of catching the ball without having to break stride on slants and posts. He rarely drops the pigskin, but his timing can be off when going for the jump balls, resulting in a good amount of passes getting batted away from him by smaller defenders. If he can iron that out in camp this summer, he'll take off in the fall.
Third Round – Max Tuerk, C (USC, No. 66 overall)
While ownership and city officials have yet to decide if the Chargers will remain in San Diego, the general manager and his scouting department tried to follow through with their primary mission – improving one of the worst offensive lines in football. They hope they have found a solution at their revolving door at center by snatching away Bears guard Matt Slauson to take over duties in the pivot. 
With Slauson's versatility in mind, he could be just a patchwork fix at the position, especially if third round steal, Max Tuerk is quick to recover from knee woes that sidelined him for the second part of the 2015 schedule. Slauson might have to shift to left guard, as 2015 signee, Orlando Franklin, missed six games with ankle and knee problems last year and also appeared to be out of shape when he was on the field. Center Chris Watt also continues to deal with knee problems that made him an observer following surgery during minicamp.
Teurk's versatility made him very appealing to NFL teams. If not for a 2014 season slump, followed by a still-recovering-from left knee ligament tear, this big, physical, and aggressive blocker could have gone much higher. As a third round choice, he could turn out to be the "value pick" of the draft at this position. Through 38 career starts for USC, he joined the first unit at center for eighteen games, adding fourteen assignments at left guard, five more at left tackle and one lone start as a right tackle.
Teurk shows adequate foot speed, with good agility and balance playing along the line. His overall strength is well above average for a player at his position and while he was taller than most centers in college, he has good athleticism, body control and change of direction ability for the short pulls. There is some hip stiffness that becomes noticeable when he has to sudden redirect, but he is really explosive coming off the snap and does a fine job of staying low in his pads and shuffling his feet well to mirror. He is the strongest player on the team, and while he can simply rely on his brute strength, he is savvy using his hands well to latch on and ride the defender out when trying to maintain and widen the rush lanes. He does a nice job of adjusting to movement in pass protection and plays with a flat back, demonstrating good balance when trying to recover (what you see on film is that he is sudden in his attack coming off the snap). He is considered a type that can consistently turn his man once he snaps the ball and engages the opponent, as few big interior blockers have his ability to use his hand placement and leg drive to generate movement. He runs with a normal stride and builds his acceleration nicely getting into the second level. He has good body control on the move, and even with some tightness in his hips (mostly seen on long runs), it is rare to see him labor when having to move laterally down the line.
Fifth Round – Jatavis Brown, LB/S (Akron State, No. 175 overall)
Brown is the perfect example of big things coming in small packages. Somehow, the NFL decision makers who put together the 2016 NFL Scouting Combine list did not deem the Zips' team captain one of the top 330 draft prospects. First, this is a high-level performer who has produced 345 tackles, twice going over the century mark. He recorded eighteen sacks among his 41.5 stops-for-loss and caused ten fumbles in the process while lining up at weak-side outside linebacker.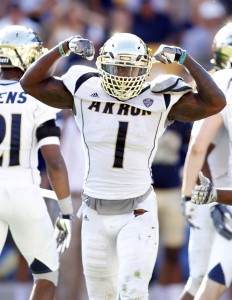 Yes, his size was an issue, most NFL execs will tell you, as Brown measures in at only 5:10.7 and weighs 227 pounds, not exactly awesome numbers for a second level performer. That is, until you dig deeper. Then, you need to view his Pro Day figures – 1.53 seconds in the 10-yard dash, 2.6 in the 20-yard and 4.44 in the 40-yard dash. Only nine defensive players at the Combine ran faster and they were all defensive backs. The only linebacker in attendance at Indianapolis to run under 4.5 was Ohio State's Darron Lee (4.47).
The three-time All-Mid American Conference first-team selection was named the league's Defensive Player of the Year last season, as he collected a team-best 116 tackles, establishing school season-records with twelve sacks and twenty stops behind the line of scrimmage. His career total of 41.5 stops-for-loss set the Akron all-time mark. All four of his forced fumbles were recovered and three set up Akron scoring drives last year, as his lone interception also set up a Zips touchdown drive.
Brown lacks ideal height for the linebacker position, but he has a thick, muscular frame with a tight abdomen, broad shoulders, good arm muscle definition, a high, big bubble, thick thighs and calves. He has outstanding closing quickness and timed speed. He has the range to make plays at the opposite end of the field and demonstrates good balance and body control taking on blockers at the point of attack. He is an explosive hitter who stays low in his pads and can slip and avoid blocks when redirecting inside. Brown most likely will be playing with a chip on his shoulder and the opposition will see that right away.
Dave-Te Thomas owns and operates The NFL Draft Report, a service providing insight to league scouting departments for over 40 years. All year round, you can read Thomas' in-depth reviews of both blue chip prospects and diamonds in the rough by visiting the NFL Draft Report blog.
Photos courtesy of USA Today Sports Images.
Follow @PFRumors