The Chiefs have made an adjustment to wide receiver Rod Streater's contract, and in doing so, created nearly $4MM in cap space, according to Terez A. Paylor of the Kansas City Star. Under the terms of the restructure, Streater's 2016 cap number dropped from $4.8MM to $810K.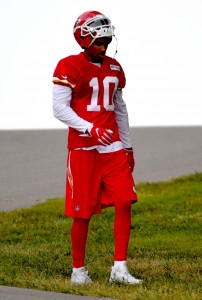 [RELATED: Chiefs Claim S Brock Vereen From Patriots]
While details of the reworking aren't immediately clear, it's very likely that the Chiefs altered some of Streater's incentives from "likely to be earned" to "not likely to be earned," thus lowering his cap charge while keeping the incentives intact. Such designations are based on the prior season's performance, but because Streater caught only pass for eight yards in 2015, it's doubtful that his amended incentives were of an individual nature. In other words, any reception-based incentive for Streater would be considered "likely to be earned," because any total he reaches in 2016 would match or exceed last year's production.
As such, it's more probable that the altered incentives were team-based, such as wins, touchdowns, or offensive yards/points. As Jason Fitzgerald of Over the Cap explained on a recent podcast, the NFL contractual bargaining agreement contains a highly convoluted rule regarding team incentives, especially when a contract contains several such clauses (as Streater's reportedly does).
It's difficult to parse exactly how the Chiefs finagled the language in Streater's deal without knowing the specifics of the pact, but the net effect is that that Kansas City now has more financial wiggle room with which to work. If Streater does end up meeting his "not likely to be earned" incentives, the Chiefs will see a cap adjustment for the 2017 campaign.
Streater, 28, will certainly have a chance to improve on his 2015 numbers during the upcoming season, as the Chiefs don't have much in the way of experience in their receiving corps behind Jeremy Maclin. Streater reportedly "looked great" when filling in for an injured Albert Wilson as the club's No. 3 option in early August, and will compete with Chris Conley, Wilson, DeMarcus Robinson, and De'Anthony Thomas for targets.
Photo courtesy of USA Today Sports Images.
Follow @PFRumors