In 2001, Patriots quarterback Drew Bledsoe was hit hard by Jets linebacker Mo Lewis and shut down for the season with a sheared blood vessel in his chest. After that, a quarterback by the name of Tom Brady stepped into the starting lineup and never gave the job back. Could we see a repeat of that in Dallas now that Tony Romo will be sidelined for an extended period? For what it's worth, Cowboys COO Stephen Jones won't rule out a scenario in which rookie Dak Prescott impresses and runs away with the starting gig (via Peter King of The MMQB).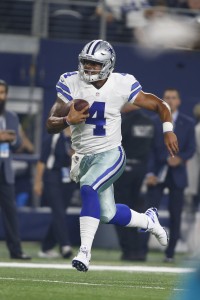 [RELATED: Latest On Cowboys' QB Search]
"I can't imagine a scenario where Tony's not our quarterback when he's ready," Jones said. "But things happen. You know that. You know what happened to Bledsoe and Brady. I'm sure Tony's aware of that. But the reality is, Tony's going to come back for us and play great, we believe."
It's worth noting that Prescott will have a fairly manageable schedule to kick off the season. The Cowboys first six games in order are against the Giants (home), Redskins (away), Bears (home), 49ers (away), Bengals (home), and Packers (away). For now, the Cowboys are planning on Romo regaining the starting job once he is healthy. But, the team knows that the rookie could potentially unseat the 36-year-old QB.
In his chat with Jones, King mentioned the Cowboys' efforts to trade up for Paxton Lynch in this year's draft. While the Cowboys whiffed on Lynch, Jones now says that team is thrilled with Prescott and happy with the way things turned out.
"I don't think our guys would even consider trading Prescott for Lynch right now," said Jones. "No, I know they wouldn't. That's how much they like Dak right now."
Photo courtesy of USA Today Sports Images.
Follow @PFRumors