With the Chargers and first-round defensive end Joey Bosa embroiled in the ugliest contract dispute the NFL has seen since introducing the rookie wage scale in 2011, team president John Spanos expressed frustration about the situation Wednesday.
"I'm highly, highly disappointed in the path we've had to take," Spanos told Kevin Acee of the San Diego Union-Tribune. "It's so overly clear we had no choice. It would have been more difficult if I felt they were being reasonable. But when you're dealing with someone who isn't reasonable, it makes it easy."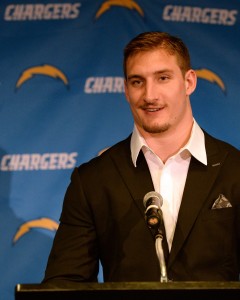 Spanos' words came in response to the decision Bosa's camp made to reject the Chargers' latest proposal, which was the best one the franchise has put forth in the three-plus months since drafting him third overall.
The Chargers offered to pay the ex-Ohio State star 85 percent of his $17MM signing bonus this year (up from the previous figure of 61 percent), according to Acee, but he turned it down and the club then pulled the proposal off the table Wednesday. Bosa's agent, Brian Ayrault, is no longer requiring the Chargers to pay the full bonus up front, sources told the Union-Tribune's Michael Gehlken, though it's unclear how far he has come down from that demand. Not nearly enough, if you're to believe Spanos.
"What you do is you compromise," he stated. "We moved and we moved and we moved. They weren't moving."
Notably, this type of dispute isn't foreign to the Chargers, who were in a similar dust-up with first-round quarterback Philip Rivers in 2014, as Pro Football Talk's Mike Florio writes. Then, on this date 12 years ago, Rivers signed. He remains the Bolts' signal-caller to this day, of course, proving that a contentious holdout doesn't have to ruin a relationship between the player and team.
Bosa's fight with the Chargers goes beyond the payout of a signing bonus, as the 21-year-old and the organization have also been battling over offset language. If a player with offset language in his contract is released midway through the pact, the original team is only on the hook for the difference in salary between the two deals. Without offset language, the player can effectively collect two paychecks. Naturally, there are many agents – including Ayrault – who are disinclined to forfeit that potential earning power.
"I'm blown away. At all costs I wanted to avoid going down this road. They made it overly clear we had no other option," continued Spanos, who referred to Bosa's holdout as "absolutely asinine."
Despite the acrimony between the two sides, they're stuck with each other through the current season. The Chargers had until Aug. 9 to trade Bosa's rights, but they opted to retain him. If Bosa doesn't sign by the Tuesday after Week 10, he won't be eligible to play at all this season. San Diego would then control Bosa's rights up to next spring's draft, at which point another team would be able to select him and try its luck in locking him up.
Photo courtesy of USA Today Sports Images.
Follow @PFRumors