Facing a 10-game ban for violating the NFL's policy on performance-enhancing substances, Eagles right tackle Lane Johnson declared last week that he would appeal any suspension. Johnson backed off that statement to a degree Wednesday, according to Martin Frank of The News-Journal, saying that he'll do "whatever is best for the team."
The reason Johnson seems less adamant about an appeal is because it could simply delay the inevitable of a suspension. In the event Johnson challenges the league's decision and plays while awaiting an appeal hearing, it would open him up to miss games later in the season if the punishment is upheld. A suspension beginning in Week 1 would keep Johnson out until Nov. 28, meaning the Eagles could get him back for a playoff push – if they're still in the race, that is.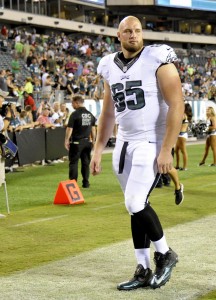 Further, Johnson doesn't expect to win an appeal, conceding, "Even if you prove it (was tainted), there's nothing you can do."
Johnson has already admitted to taking the substance that caused the positive test (a league-approved amino acid, the 317-pounder says), so the "B sample" he and the league are awaiting likely won't bring good news for him.
While Johnson seems resigned to the idea that he'll have to serve a suspension, he vowed Wednesday to take legal action against the company that he claims provided him with a tainted amino acid.
"Going after them," said the 26-year-old (via Reuben Frank of CSNPhilly.com). "I have people on it to get it done."
Thanks to this incident, Johnson's done taking supplements.
"Food and water. That's all I'm going to put in my system," stated Johnson. "Food and water. No supplements, no powders, nothing."
Johnson, who previously served a suspension two years ago for using Adderrall without the league's permission, isn't in position to take a chance with anything that could potentially lead to another ban. If his current suspension is upheld and he's hit with a third one down the line, it would bar him from football for two years. And there's no guarantee a team would want him on the heels of a third suspension.
For the Eagles, having to go without Johnson for most of this year would be a significant blow. Since going fourth overall out of Oklahoma in the 2013 draft, Johnson has started in each of his 44 career appearances, and Pro Football Focus (subscription required) ranked him 22nd among 77 qualified tackles in overall performance last season. In January, Philadelphia gave Johnson a hefty extension that's set to run through 2021. Barring an unforeseen development, Allen Barbre is likely to be the Eagles' Week 1 starter at right tackle, as their depth chart shows.
Photo courtesy of USA Today Sports Images.
Follow @PFRumors